PUMP EXPRESS TAKES ON NEW LINE OF HIGH POWER DEWATERING PUMPS & POWER GENERATORS IN ADVANCE OF 2013 HURRICANE SEASON, PREDICTED ACTIVE AGAIN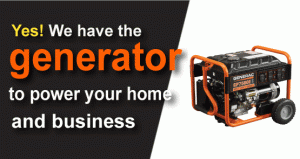 The climate experts at Colorado State University's Department of Atmospheric Science released their hurricane season predictions for 2013 and, like many based in the region hardest hit by Hurricanes Irene and Sandy, Pump Express took notice.
With the Atlantic basin expected to host four major hurricanes this year, and a high probability that at least one of those will hit the East Coast, Pump Express has increased its supply of heavy duty flood remediation and power generating equipment.
"Given the recent rise in heavy storms across the Northeast, residents should be safeguarding their homes against flooding regardless of the forecast," Says Pump Express General Manager Ed Drejman. "Pump Express is committed to providing customers with all of the equipment they need to protect their property from damage."
Drejman and the Pump Express team have applied lessons learned in the aftermaths of Hurricanes Irene and Sandy to develop a robust inventory of pumping equipment suited to challenging storm water applications.
"After Sandy hit we saw a big demand for trash pumps so Berkely's EDP55RV Engine Driven Self-Priming Trash Pump is an item we're big on this year," says Pump Express Sales Manager Fred Hettinger. "It's great for pumping large volumes of water from roads, buildings and basements and it's gas fueled so it'll run if the power goes down. We're also stocking 50-foot, 2-inch fire hoses which are useful for dewatering basements and 25-foot plastic corrugated hoses which a lot of people were attaching to their sump pumps after Sandy to help their primary unit pump water from their basements."
Storm-related power outages across New York, New Jersey and Connecticut have led Pump Express to take on several lines of power generators.
"Meeting the demand for high-performance models is a priority for us this year," says Ed Drejman. "In addition to building up our stock of PHCC Pro Series' PS-C33 combination primary and backup sump pump systems, we're stocking Generac GP 5,500-Watt Gasoline Powered Portable Generators, along with comparable models from Rheem and Briggs & Stratton."
The barrage of major storm events across the Northeast in recent years has created a proving ground for dewatering and power generating equipment in which several clear leaders have emerged for reliability and exceptional performance. Pump Express has taken note and assembled an inventory of these high performance all-stars in order to answer to the challenges of the coming months.