Liberty Pumps: Top-Rated and Best-Selling Grinder Pumps
In high-volume systems (like hospitals, apartment or office buildings, and even homes), where many people are using the same sewer system, costly clogs, sewage backups, and damage can occur if you're not ready for them. Tackle potential clogs before they happen with one of the highest-rated grinder pumps on the market, a Liberty grinder pump!
Despite our best efforts, sometimes plastic bags, diapers, leather or latex gloves, washcloths, or cleaning rags make their way into our pipes. Regardless of how they got there, solids like these can cause massive headaches if you're not prepared for them. Installing a high-quality grinder pump will save the day and save you a lot of worries!
In this article, we'll cover the basics of grinder pumps, and then we'll be talking specifically about the Liberty PRG Series Grinder Pumps. These tough little machines can handle just about anything. Let's dive right in!
The Basics: What Are Grinder Pumps and How Do They Work?
Grinder pumps, like the Liberty grinder pumps we'll talk more about a little later on, are sewage pumps made to handle black water (wastewater with solids in it). They transfer black water out of a building's individual wastewater system to a larger municipal or city sewage processing system.
How Grinder Pumps Work
Just as their name implies, these pumps grind, slice, or mash up any solids present into smaller particles. They work much like a large garbage disposal. Their grinding function creates a slurry that is more efficient and easily pushed through your wastewater system. The main purpose of having a grinder pump is to crush solids up so they can pass through pipes without clogging.
When to Choose a Grinder Pump?
If in doubt, choose a sewage grinder pump for applications where you have a rise in elevation or a long distance to pump over. Also, when you're pumping to a main that is pressurized, you'll definitely want a powerful grinder pump. However, if you have a septic system, a grinder pump may not be for you.
Grinder pumps give business owners, landlords, and homeowners peace of mind. They can rest assured that their pipes are safe from many of the most common types of clogs. This also ensures that expensive wastewater backups and water damage (or worse, sewer damage…gross!) won't happen in their property.
Liberty Grinder Pumps: What Makes Them the Best?
When you're faced with a challenging sewage scenario, you'll want the most shred-ready pump you can find. Liberty is it. And there are several reasons why including:
• In the latest Liberty grinder pumps, like the PRG series, you'll find a new cutting-edge (pardon our pun!) technology called V-Slice that can slice through nearly anything thrown at it.
• You'll be impressed by their heavy-duty cast-iron construction and thermal-protected motors. These pumps are built to last!
• The PRG Series Grinder Pumps handle solids up to 2" and can even tackle tough, fibrous materials that might clog lesser pumps. Did a piece of denim really just get flushed?! No problem! Liberty's got your back.
The V-slice cutting feature alone is reason enough to buy a Liberty model. It is a highly capable grinding function that produces more than 300,000 cuts per minute! This will keep your Liberty grinder pump clog-free over its long lifespan, making sure you can rest easy.
Liberty Pumps: One of the Top-Rated Sewage Pump Brands in the Industry
Liberty pumps are best sellers and very highly rated by the consumers who purchase them. Time and again, these powerhouse pumps prove just how durable and long-lasting they are. And they're also super quiet and efficient.
Liberty has always been a family- and employee-owned company. Not only that, but they're also based in the U.S. and a leading manufacturer of high-quality sewage pumps. For the reasons you've seen herein, Liberty has established itself as one of the best selling and most trusted pump brands in the industry.
Their latest and greatest grinder pumps, like the ProVore PRG Series Grinder Pumps, are innovative in design and ready for anything with the incredible shredding capability of the stainless-steel V-Slice cutter. Of course, the PRG models also come with Liberty's standard features, like rugged cast-iron construction and a thermally protected motor.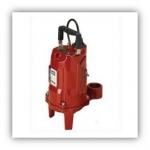 Liberty PRG101M ProVore Grinder Pump
PumpExpress.com: Your Online Liberty Pumps Dealer
When you're thinking about buying a new Liberty grinder pump, check out our full-service website. If you have questions or need assistance in choosing the pump to fit your needs, give our talented customer service pros a call at 1-800-429-0800. We specialize in pumps, and we're among the largest online dealers for Liberty pumps, one of the world's most reliable pump brands.
We carry Liberty grinder pump models like the PRG Series mentioned in this article. And PumpExpress.com always offers guaranteed low prices on Liberty pumps, replacement parts, and pump accessories!