Picture this: it's a stormy night with lightning flashing across the dark sky.
You've been watching the rain pour down for hours. Now, you notice that the ditches and drains near your home are filling fast. What if all that water flooding the sewage system causes a backup?
Worse yet, what if that water makes its way into your home's basement? Do you store valuables, furniture, or mementos down there that could be ruined?
Which treasured possessions or priceless memories are you willing to lose forever if water, mildew or moisture ran rampant through the lower level of your home? Probably none, right?!
In this article, we're talking about how to avoid that nightmare. We'll focus on why having a battery backup sump pump, like a top-quality Zoeller sump pump, could really save the day in the occurrence of a water disaster like this one.
Let's dive in (pun intended)!
The Basics: What Do Sump Pumps Do?
Essentially, sump pumps (like the Zoeller sump pumps we'll talk more about in a bit) are designed to protect your home's basement from flooding. They can also be used commercially, but we'll focus on residential applications for the purposes of this article.
It is even more significant to have a sump pump with a battery backup if your home's basement has been finished out or if you store important keepsakes or valuables down there. In that case, you'd stand to lose a lot of money and/or possibly things that can't be bought with all the money.
To keep your things and your home safe from damaging moisture, water, and mold and mildew, you'll want to have a high-quality sump pump installed. For added protection, go with one that has a reliable battery backup system, like the Aquanot® Active 508 from Zoeller pumps. Read more on this model later.
Why Does Your Home Need A Sump Pump with Battery Backup?
Even if you already have a sump pump installed, you'll want to make sure to also have a secondary battery backup system. Why? To protect your home even when:
• The power goes out
• The primary sump pump somehow comes unplugged
• The primary pump has a mechanical failure
• A fuse blows and renders the primary pump useless
• An abundance of water overloads the primary pump
A sump pump with a secondary battery backup system can switch to battery power and kick itself on automatically as needed. This will ensure that your home and belongings are safe from flooding and water damage even if you're not home to turn it on. These systems keep your home safe no matter what storms may come!
Obviously, it's a worthy idea to have a quality sump pump with a battery backup option, so let's talk about some of the very best in the business, Zoeller sump pumps like the Aquanot® Active 508.
Zoeller Pumps and the Zoeller Aquanot® Active 508
Zoeller Pumps (including Zoeller sump pumps, Zoeller Aquanot® Active 508) are known as some of the best in the water transfer industry.
Zoeller was founded back in 1939 and is still a family-owned business. Over their many decades in business, Zoeller has proven to be a reliable and consistent leader in the industry. The company endures excelling by providing durable, top-quality pumping solutions for all your needs.
The Zoeller Aquanot® Active 508
The Zoeller Aquanot® Active 508 is one of Zoeller's most popular battery backup sump pump models. This reliable backup pump provides you with up to 5 ½ hours of worry-free, continuous performance when your primary pump's operation is interrupted for any reason.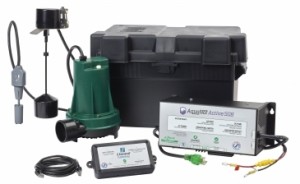 Zoeller Aquanot® Active 508
The Aquanot® Active 508's controller offers an automatic charging system with a low battery indicator and alarm. It's super easy to use but also so high tech that it can test itself so that you don't have to!
PumpProducts.com: Your Online Zoeller Sump Pumps Dealer
When you're looking for the best deals on Zoeller sump pumps or any Zoeller pumps, check out our full-service website. You can also call our experts at 1-800-429-0800 for assistance, price quotes, or to place your order by phone. We specialize in pumps, replacement parts, and pump accessories, and we're one of the largest online dealers for Zoeller, a globally respected brand.
Whether you're a direct consumer, a small to a mid-sized contractor, or a large commercial, industrial, or municipal entity, PumpProducts.com has your back.
We carry the Zoeller Aquanot® Active 508 as well as many other models. We happen to offer the guaranteed lowest prices on all our Zoeller pumps!