Founded in 1872, Wilo Pumps is a leading manufacturer and supplier of premium pumps and pump systems. This brand is known for offering energy-saving and cost-effective cast-iron water pumps that can withstand the harshest materials easily.
Their wide range of pump products signifies their expertise and finesse in the market. But are you also planning to get a Wilo pump for your home, factory, or office? If so, a fair understanding of its major types and models can smoothen the process.
So, without much ado, let us understand the different types of Wilo Pump products available and their applications.
Types of Wilo Pumps
A brief overview of the three main types of Wilo pumps: centrifugal, submersible, and booster
Centrifugal Pumps
It is one of the most popular Wilo pump types used for dewatering. Centrifugal pumps move fluids with the help of rotational energy. The liquid enters the machine through rotating impellers and is thrown out by the centrifugal force through its vane tips.
Advantages
Easy to Maintain – Portability, simple design, and user interface make centrifugal pumps easy to maintain and use.
Efficient – Wilo Centrifugal pumps can effectively handle low sticky fluids.
Smooth Flow – Wilo centrifugal pumps make dewatering effortless and hassle-free. Its flow is non-pulsating and laminar, which ensures the smooth flow of liquids every time.
Versatile – Wilo centrifugal pumps can smoothly handle different solids and liquids by altering the impeller rotation or design. It makes this machine super versatile and ideal for various applications.
Affordable – Wilo centrifugal pumps are cost-effective compared to other brands due to their wide availability and simple design.
Examples of Wilo Centrifugal Pumps
Here are the types of centrifugal pumps offered by Wilo:
Self-Priming Centrifugal Pump
Centrifugal Pump with Filter
Non-Self-Priming Centrifugal Pump
Multi-Impeller Centrifugal Pump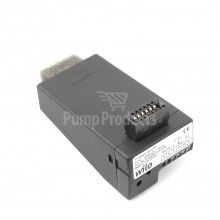 Submersible Pumps
Wilo submersible pumps help move fluids from one location to another. Apart from this, as the name suggests, these pumps function underwater. Moreover, it is a unique pump that pushes rather than draws fluid during the pumping process.
These pumps are usually used for pumping slurry, drainage, and sewage. However, experts consider it a multipurpose pump that can be used in various commercial and residential applications.
Advantages
Submersible pumps come with a magnitude of benefits for home and industry owners. Let shave a look at them:
Self-Priming – Wilo submersible pumps do not need priming. These self-priming pumps function below the fluid that needs to be pumped.
Convenient – Wilo submersible pumps are compact, lightweight, and portable. All these qualities make these pumps super convenient and easy to operate.
Highly-Efficient – Submersible pumps are highly-efficient that are designed for continuous functioning under harsh conditions.
Noise-Free – Wilo submersible pumps are noise-free in most applications.
Durable – These are heavy-duty pumps that are corrosion-resistant. Moreover, their high-quality stainless-steel build adds to the durability of the machine.
Examples of Wilo Submersible Pumps
Here are the top examples of Wilo submersible pumps:
Single Seal Submersible Pump
Double Seal Submersible Pump
Vertical Submersible Pump
Booster Pumps
A booster pump helps accelerate the water pressure to increase the fluid's flow. This type of pump is very effective in pumping pressurized water to high-rise manufacturing complexes and residential buildings.
So, how does a booster pump function? You see, a booster pump operates just like a fan. Its blades spin around to enhance air movement. Similarly, the impellers inside the booster pump spin to boost the water pressure and flow.
Advantages
Let us have a look at the benefits of using the Wilo booster pump:
Versatile – Booster pumps are highly-versatile and can be used in various residential and commercial applications.
Energy-efficient – Wilo is known to roll out the best and highly-energy efficient pumps. And booster pumps are not an exception. This machine consumes minimal energy and gives a brilliant performance every time.
Reduce Noise – Wilo booster pumps can also help reduce noise levels in your office or home. It pumps water through multiple pipes instead of a single line.
Increase Water Flow – It is one of the biggest advantages of using Wilo booster pumps. They can effectively solve all your water requirements ensuring seamless supply 24*7.
Wilo-Helix V-Pump
Multistage Booster Pump
Examples of Wilo Booster Pumps
Comparison of the Three Types of Wilo Pumps
| | | | |
| --- | --- | --- | --- |
| | Centrifugal Pump | Submersible Pump | Booster Pump |
| Functioning | Centrifugal pumps move fluids with the help of rotational energy. | Submersible pumps function underwater. They help transfer fluids from one location to another. | A booster pump helps accelerate the water pressure to increase the fluid's flow. |
| Applications | These pumps are widely used in the chemical, food, and beverage manufacturing industries. | These pumps are used to remove excess water from residential and industrial basements. | These pumps are used in high-rise commercial complexes and residential buildings. |
Factors to Consider while Purchasing a Wilo Pump
Here are the top factors to consider while investing in a Wilo pump:
Identify Need – First, identify the need for which you are looking for a water pump. For instance, a booster pump is ideal for boosting water pressure; a submersible pump is great for pumping slurry, drainage, sewage, etc.
Discharge Capacity – It signifies the force and flow rate at which the water will be pumped. This capacity is expressed in LPS – liter per second. So, you should select a pump with a higher discharge capacity if you want it to flow rapidly.
Inlet Pipe Size – A small pipe can move less fluid volume and vice versa. So, carefully choose the pipe size while picking the right Wilo pump.
About Pump Products
Get the widest range of Wilo pumps at the best prices on PumpProducts.com. With the fastest shipping services, we are one of the best pumps, controls, electric motors, and parts suppliers.
Moreover, if you need a product that is out of stock in our store, we can deliver it directly from the manufacturer. Contact our experts or engineers to get the finest products according to your needs.
They will support you through the entire procedure and guarantee the best results on your investment. Call us at 18004290800 for more information. Our professionals will help you right away.