THE NATION'S LEADING PUMP & PARTS SUPPLIER!
Pro Series PHCC Combination Primary and Backup Pump System (PS - C33)
* Overnight Shipping Available!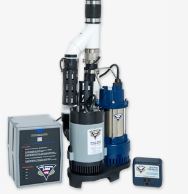 The new PHCC Pro Series, "Pair of Pumps" combination systems, couples an energy efficient primary sump pump and battery backup sump pump into one compact system. The primary pump operates off AC power. If the power is interrupted, or more water is coming into the sump than the AC pump can handle, the backup sump pump will begin pumping automatically.
Features:
Pre-Assembled for quick and easy installation; Energy efficient permanent split capacitor (PSC) motor; Continuous duty rated; Dual float switches on primary and backup pumps; Automatically switches to battery power when AC fails; Backup pump will assist primary pump if excessive amounts of water are entering the sump; Detects irregularities, sounds an alarm, and pinpoints problems and solutions on control panel; Maintains and recharges battery automatically; Alarm can be silenced during a power outage; Designed for use with maintenance or maintenance free batteries; 3-year warranty; Water cooled (no oil to leak).
Key Features:
HP - 1/3
Flow @ 10 ft Head - 3000 GPH
Motor HP/Type - HP-PSC
Max Head - 30 ft (9.1M)
Discharge - 1 1/2 in.
Voltage - 115V 60Hz
Product Availability: OVERNIGHT SHIPPING AVAILABLE ! - PUMP EXPRESS delivers PHCC PRO SERIES PUMPS and PHCC PRO SERIES PUMP PARTS 24 hrs a day, 7 days a week, 365 days a year DIRECT FROM THE PHCC PRO SERIES PUMP MANUFACTURER TO YOUR DOOR.
Questions before buying? Ask the expert about this item. Sorry, do not submit repair related questions.

Contact a pump specialist to assist you in finding the right pump or pump part. Our Factory Authorized pump experts can help you find the best solution and the GUARANTEED LOWEST PRICE !
Call 1-800-429-0800
Mon - Fri : 7AM to 4:30 PM
Saturday : 7AM to 1PM Eastern Standard Time

Copyright ® 2013 Pump Express