Why Every Pump Basin is Not the Same?
Sewage treatment is a complex process that involves separating water from the numerous particulate matter and microorganisms that are present. One component of a sewage/water treatment system the help quickly and effectively separate various particles from the water is the pump basin.
What are the pump basins?
Pump basins in a sewage/water treatment system refer to those components that collect and store the contaminated water until it is ready to be treated. The objective of using a basin is three-fold:
Pump basins control the flow of sewage into the treatment system by holding-off the excess water until the system is able to treat it.
Basins can prevent the overflowing of contaminated water when there is rain by acting as a container that stems from the sewage flow.
Basins enable the heavier sludge and large particles to settle down at the bottom, letting only water pass through to the treatment system. This prevents dangerous large particles from getting stuck in your water filtering and treatment system at the later stages.
Why aren't pump basins the same everywhere?
Pump basins differ based on the following criteria:
Usage – Pump basin models are specifically designed to suit residential, commercial, or industrial needs. This is because the amount of sewage and the nature of contaminants to be treated will be different in each type of building.
Sump pump pit size – The pump basin you buy must fit snugly into the pump pit. Otherwise, there is a chance of sewage overflow.
Components/accessories – Some pump basins also come with basin covers, discharge pipes, and lids. Others don't have or need these accessories. This depends on your usage needs.
The best pump basins and basin accessories to buy
When it comes to must-buy sump pump basins, here are a few models you can consider:
This is one of the premium-quality duplex Goulds Basins available for residential and commercial use. It comes fully installed and ready for 2-inch corrections.
Pumps must be bought separately, but this product comes with guide rails. Other inclusions in this product are – junction box, basin, cover/lid, hub, vent, piping, valves, and anti-float ring.
The base elbow disconnects are available in a standard size of 2″, customizable on-demand to 1-1/4″ and 1-1/2″.
The entire basin and guide rail are constructed using superior stainless steel material. This prevents corrosion.
The cast-iron inlet hub and steel hatch cover are very robust and stand up to long usage.
The discharge depth is 12".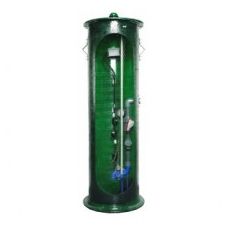 This is the bigger variant of the duplex Goulds Basins for sump pumps and water treatment systems.
This product comes with a guide rail package. It includes the basin, steel cover, junction box, stainless steel guide rails, anti-float ring, vent, cast iron inlet hub, piping, isolation valves, and Conery base elbow that disconnects at 2".
The construction made of stainless steel and cast iron makes this basin extremely tough and non-corrosive. The product is perfect for use when treating sludge and harsh contaminants.
This basin is very customizable, with 1-1/4″ and 1-1/2″ elbow disconnects available on demand.
Pumps are sold separately from this Goulds Centripro basin.
This is one of the best Little Giant Basins for long-term, heavy usage.
The Little Giant 14940653 basin comes in a superior-quality Polythylene construction, which is a corrosion-resistant plastic. It is perfectly suited to storing and filtering sewage with abrasive chemicals.
The basin is of 18"X22" diameter, perfect for residential and small-size commercial plumbing needs.
The basin is very light-weight, and shipping it will be very easy.
The basin does not come with any accessories, which can be bought separately.
Warranty up to 5 years available on construction quality.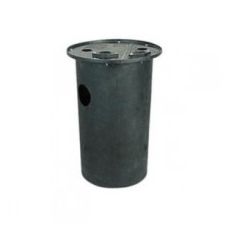 If you have one of the WCR series of water/sewage treatment systems, then the Little Giant 113095 is one of the best Little Giant Basins to use.
This 20″ X 30″ sump pump basin is made using premium-quality materials, designed to handle heavy sewage flow.
This basin has complete warranty coverage for up to 5 years for any construction quality and workmanship issues.
It is ideal for use in homes, office buildings, factories, and small farms.
Accessories are not a part of this basin; however, Little Giant basin accessories can be purchased separately.
Pump basin accessories to purchase
So far, we've been talking about Sewage Basins. But there are a few key basin accessories that you need to purchase to ensure your basin works efficiently and effectively. These accessories include:
Basin lids/covers, which can be used to close the basin, when it's not in use, to prevent foreign contaminants from further contaminating your water.
PVC pipes are the ideal plumbing choice because of their lightweight, varied temperature capabilities, ability to handle high water pressure. They are adaptable to different water systems and sustainable compared to other types of pipes.
Two Little Giant basin accessories you can consider are: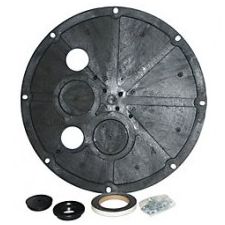 This Little Giant 113057 18" basin cover/lid is the perfect way to keep your water/sewage treatments in order by preventing new contaminants and particulates from mixing with the stored liquid.
This basin cover/lid is available in two variants – one with a 2" vent and a 3" discharge; another with a 3" vent and a 2" discharge.
If you're using a Little Giant 14940653 CS-SS system, you can purchase a different model of the 18" basin lid/cover.

This 2″ x 30″ Schedule 80 PVC pipe is perfect to be used with basins of various sizes and applications.
The PVC pipe comes with a 2" discharge.
This PVC pipe model, in particular, can be used to replace damaged PVC piping in the 9S-SMPX-LG and 10S-SMPX- LG Little Giant water management system models.
You can also purchase the 3″ x 30″ Schedule 80 PVC pipe if you require a larger discharge.
You can purchase other basin accessories, including – Little Giant 925033, 2″ 1-hole Grommet and the Little Giant 113075, 4″ Cast Iron Hub Kit for 30″ diameter basins.
About Goulds
Goulds is a premier water technology specialist and a part of Xylem Inc. The company works with various for-profit and not-for-profit companies, helping create cleaner, potable water for people everywhere. You can find a fine range of water management and treatment systems with Goulds.
About Little GIANT
Little Giant is a water transfer expert, manufacturing some of the best sewage sump pumps, water treatment systems, utility pumps, garden pumps, condensation removers, well pumps, and more. Their plumbing and HVAC solutions are reputed across the United States.
About Pump Products
PumpProducts is a dedicated supplier of premium-quality sump pumps, water management systems, pump accessories, motors, and a variety of repair/replacement parts. Shipping prices are budget-friendly, perfect for both residential and commercial facilities.