Myers Sump Pump Repair Parts Make Fixing Your Pump a Breeze
If you need a sump pump that promises a maintenance-free operation, then Myers Sump Pump is your best choice. Explore the MDC Series and MS Series Models here.
Flooding in the basement can affect the foundations of your buildings. Myers Sump Pumps are special pumps designed to remove water that is accumulated in the water collecting pit located in the crawlspace or your building's basement.
Did you know that more than 60% of homes in America suffer from below-ground flooding? Sump pumps can prevent this. They are very useful in industrial settings as well, where a large volume of liquid is disposed-off after use.
Replacing sump pump parts
Sump pumps experience a lot of wear and tear over the years, and parts repairs or replacements become necessary. The sump pump may get damaged or maybe on the verge of a breakdown. Ideally, you should replace your sump pump parts when:
It is more than 7 years old.
It makes a lot of noise.
It needs to be run all the time because it isn't as effective as before.
It is cycling incorrectly.
There is rust on the pump casing.
The motor gets stuck, or it fails to switch on.
Its electrical wiring is damaged.
But often, building owners find it difficult to find the right repairs parts for their sump pump. It then becomes imperative to choose a sump pump brand that makes future repairs and replacements a breeze.
Features of Myers Sump Pump MDC Series Models
The MDC Series Models of sump pumps are highly-versatile pumps designed for light usage in residential buildings. These pumps can also be used for septic tank pumping when there are light, liquid effluents.
In the MDC Series, there are two models that are highly-reputed for their robust construction and long lifespan – the Myers MDC33V1 and the Myers MDC50P1 models. The key features of these MDC Myers sump pump models are:
The two pump models are perfectly-suited for basement/crawlspace dewatering, light septic tank cleaning, and foundation water transfer.
The oil-powered 1/2-1/3 HP, single-phase, 115-volt, shaded pole motors of the two pumps support recessed vortex impellers. The pumps are uniquely designed to protect the motors from thermal overload and to quickly cool-down during operation. The lubricated bearings ensure the motors don't get stuck. The pumps perform at 48 GPM max capacity.
These pumps are CSA Listed and approved. They come with a 24'' shut-off head, and the minimum diameter of the sump pump is 12″. These Myers sump pumps are capable of handling solid wastes up to 1/2″.
The pumps are anti-leak and have strong carbon ceramic shaft seals in place. The cast iron pump bodies are robust and can withstand a lot of abrasions. The pumps have an automatic operation setting as well, which can be set using the piggy-back vertical float switch.
The Myers MDC33V1 and the Myers MDC50P1models also possess 10", 16/3, SJTW, SJTW-A power cords, which allow for easy installation and powering.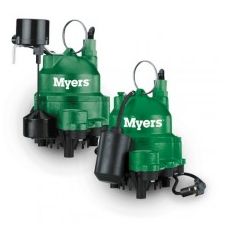 Myers MDC33V1 Automatic Sump Pump
Features of Myers Sump Pump MS Series Models
If your basement or crawlspace is flooded not just with water but small debris as well, you should consider the Myers MS Series Sump Pump Models. Designed for light-to-moderate dewatering and septic tank effluent management, the MS Series sump pumps can be used in both single-unit and multi-unit households. With an extensive range of models in this series, you'll be hard-pressed not to find one that suits your needs. But of all these models, the two best sump pump models are the Myers MS33PT10 and the Myers MS33M20.
Important features of the Myers MS33PT10 pump are:
This robust Myers sump pump supports 3/16″ solid handling. It is designed for sump pits with a diameter of 14″ and more. The tethered float switch enables maintenance-free operation.
The pump is highly long-lasting, thanks to its tight lip seal and dual ball-bearing PSC motor. The continuous lubrication ensures the motor doesn't overheat and functions seamlessly. Even the motor housing is abrasion-proof, thanks to its motor coating and thermoplastic volute case.
The Myers MS33PT10 is a CSA-listed sump pump with a warranty of 3 years.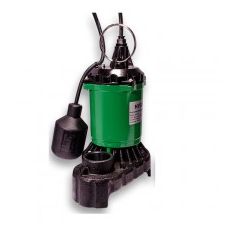 Myers MS33PT10 MS Series Sump Pump
Key features of the Myers MS33M20 pump are:
This dynamic sump pump model is popular for being completely maintenance-free in operation. It has been designed to process solid wastes up to 1/4″.
The premium-quality oil-filled PSC motor with dual ball-bearings and tight lip seal is completely thermal protected.
The cast iron casing with the anti-corrosive fittings ensures that your sump pump lasts very long.
This MS series Myers Sump Pump has a 3-year warranty and bears the CSA mark, vouching for its quality.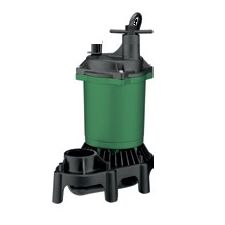 Myers MS33M20 MS Series Sump Pump
Myers company overview
A sub-brand that falls under the Pentair parent company, Myers Pumps is a globally-reputed manufacturer of sump pumps, pool filtration equipment, water disposal systems, and pump replacement part accessories. The company was founded in 1870 and today has more than a century's heritage of producing top quality products powered by innovative engineering.
About Pump Products
Pump Products is one of the leading American suppliers of utility pumps and repairs parts. The company has extensive experience serving clients across industries. With a phenomenal track record of delivering world-class products at low prices and at very short delivery times, Pump Products is the premier choice for all pump and repair parts sourcing needs.