In Need of a New Circulator Pump?
Having a reliable circulator pump is essential to the smooth functioning of your heating or cooling system. If you're looking for a new, premium-quality circulator pump, then look no further than Wilo Circulator Pumps and Taco Circulator Pumps. Both these circulator pump brands are reputed for their premium quality, durability, features, and affordability. In this article, we'll explore Wilo Circulator Pumps and Taco Circulator Pumps in greater detail.
But first, let's understand what a circulator pump is.
What are Circulator Pumps?
Circulator Pumps, such as Wilo Circulator Pumps and Taco Circulator Pumps, are a type of centrifugal pump. They help keep a consistent circulation of liquids or gasses inside a hydraulic heating or cooling system. In some applications, a circulator pump may even circulate slurry or other materials as needed. It is often a pump that is added to the water system of residential and commercial properties. Through the circulator pump's efficient working, hot or cold water is easily available at every faucet across the property.
Circulator pumps are imperative to keep your home or office space at the right temperature and also well-supplied with hot and cold water. If you're interested in either replacing an old circulator pump or installing a new one, consider Wilo Circulator Pumps and Taco Circulator Pumps.
Features and benefits of Wilo Top S Series
Wilo Circulator Pumps are a highly popular circulator pump brand. The Top S Series of Wilo Circulator Pumps, in particular, is excellent for commercial and industrial applications that require heavy-duty work. It's a great choice for a pump because:
It can be attached and assembled to any hot water system and cooling circuits across industries.
It is compact and can be installed with ease.
It is not noisy and is ideal for spaces requiring a quiet pump.
It is coated using the Cataphoresis method, which reduces the risk of corrosion.
It can handle temperatures between 14°F and 248°F (-10°C and 120°C).
It boasts of H Protection Class.
In the Wilo Circulator Pumps Top S Series, you'll find the following two models the best candidates for your new circulator pump:
The Wilo 2067542 is a cast iron pump that comes with a Cataphoresis coating that protects it from corrosive materials. It's an excellent pump because:
It can operate at 2 different speeds, at the same voltage of 115 volts.
It has a premium-quality aluminum electrical box casing.
It has a 2-bolt flange that is 1.25″ in size.
It can support glycol and water concentration up to 50% without getting damaged.
It can be used for a variety of applications, including the generation of geothermal or solar power.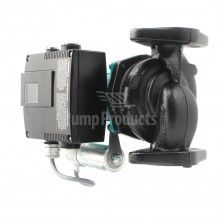 Next, we have the Wilo 2067588 model from the Wilo Circulator Pumps Top S Series. It is powerful and is a 3-phase circulator pump that has the following features:
It is a 2-speed pump that runs on 208/230 volts and 1-3/4 HP.
It has a cast iron construction with certain parts made of premium-grade cast aluminum.
It comes already vented and is very easy to maintain.
It has a unique thermal overload sensor that protects the pump from overheating.
It is highly durable, made using cast aluminum and iron that is Cataphoretic coated, metal-infused carbon, stainless steel shaft, and an impeller made of composite material.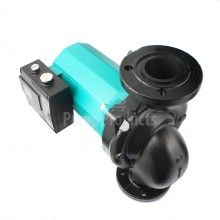 Features and benefits of Taco 008 Series
Another circulator pump brand for you to evaluate is Taco Circulator Pumps. The Taco 008 Cartridge Circulator series from Taco Circulator Pumps is a heavy-duty pump that is perfect when you want a circulator pump for every day, high-intensity usage. It is suitable for all residential, commercial, and industrial applications due to the following reasons:
Its parts are field serviceable, and you won't have to dismantle the entire set-up during maintenance.
The design has a self-lubricating feature that ensures the pump always works seamlessly.
It is available both in bronze and cast iron.
Its compact design can support a high output at low power consumption.
It comes with optional sweat connections.
In the Taco Circulator Pumps Taco 008 Cartridge Circulator series, you'll find the following two models worth taking a look at:
The Taco 008-F6-3IFC comes with a cast iron construction that is highly durable. It also boasts of the following features:
It operates on 115volts at 1/25 HP.
It is built with an Integral Flow Check that minimizes installation and maintenance efforts.
It is available with a flange-to-flange warranty for 3 years.
Its precision technology has on-site serviceable parts.
It does not have a mechanical seal and is self-lubricating.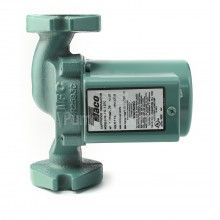 Another model in the Taco Circulator Pumps Taco 008 Cartridge Circulator series is the Taco 008-ZSF6 model. It is liked by many businesses because:
It has a reliable stainless-steel body that runs on 1/25 HP and 115 volts.
It is designed with a Priority Zoning circulator, making it a state-of-the-art pump.
It has moving parts and an easy-to-replace cartridge slot.
It can support various industrial applications from in-floor heating to water recirculation systems.
It comes with a 3 years flange-to-flange warranty.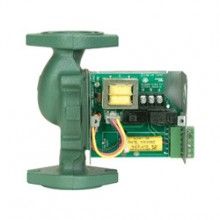 Wilo overview
Wilo Pumps is a reputed European manufacturer of pumps and pump systems based in Germany. Wilo Circulator Pumps have been used in commercial, industrial and domestic applications for decades.
Taco overview
Taco Pumps is a family-owned American business that specializes in pumps, pump systems and replacement parts. Taco Circulator Pumps have supported many American homes and offices with their precision technology for years.
PumpProducts overview
PumpProducts.com is a reputed online distributor of pumps, motors, and pumping accessories. We can deliver premium-quality Wilo Circulator Pumps and Taco Circulator Pumps to your destination at highly affordable rates.