Goulds Repair Parts make Fixing Your Sewage Pump Easy
There are several parts to a pump. The motor is the most important part, but there are several additional parts to support the system. These include the shaft, shaft seal, adaptor, backing plate, impeller, and the casing. The backing plate is often a part of the casing. So you may have the removable cover. However, these are just some of the key components of a pump.
There are hundreds of very small to bigger sized parts in a pump. Goulds repair parts come in several series. Each of these series may have hundreds of parts. If you are using a Goulds Pumps, then you will need Goulds Pumps repair kits.
If you are planning to purchase a Goulds repair parts kit, you will need to match the specifications. You must ascertain the series and model number because there are hundreds of Goulds Pumps parts categories.
Goulds is a highly reputed company in pumps and pump parts. Goulds Pumps have continued to operate for decades before getting replaced. So, you can rest assured of the Goulds Pumps repair kits.
Float switches
Float switches are an important part of Goulds Pumps repair kits. They are a kind of sensor device. Their task is to detect the level of fluid in a tank. They are designed to open or close an electric circuit. They function in pumps is to control the flow of the liquid and its level. They create an open or close electric circuit to start or stop the liquid's flow when it reaches a certain level.
A float switch has a hollow floating body with a reed switch and magnet. There are different types of float switches with some variations but essentially the same function. Some float switches may have an external counterweight, and their essential function is to create an open or closed circuit. A magnet is used to create an open or closed circuit.
The two main categories of floats are control switches and pump switches. Pump switches are used to turn submersible pumps on or off. The control switches are meant to sound an alarm when water reaches its level.
Features and benefits of Goulds Repair Parts 2WD series
The Goulds repair parts that you may require can be for one among several series. One of them is the 2WD series. The kit will also serve the 3WD series. This repair kit will fix Residential Submersible 2″ Non-Clog Sewage Pumps Dual Seal with Seal Sensor Probe.
Submersible 2″ Non-Clog Sewage Pumps Dual Seal with Seal Sensor Probe 2WD/3WD
 This pump has applications in several settings, including water transfer, dewatering, sewage systems, commercial, and light industrial applications.
This pump series has substantial features. The fixing requirement is unlikely before decades of continuous use. The pump is made of cast iron, and its impeller is semi-open or enclosed and of non-clog nature. It is dynamically balanced, and special care goes in for mechanical seal protection with pump-out vanes. A Silicon bronze impeller is also available, and the maximum efficiency has been ensured with flanged volute type casing and cast iron. It is protected with dual mechanical seals, and a seal sensor probe is also available in the pump. The shaft of the pump is exceptionally strong and made from corrosion-resistant, 400 series stainless steel.
Features and benefits of 3SD series
3SD series pump repair parts are commercial submersible sewage pumps and include dual seal with seal sensor probe. They find applications in sewage systems, dewatering effluent, flood and pollution control, hospitals, farms, motels, and trailer courts.
The impeller characteristics include cast iron 2 vane construction, non-clog, semi-open impeller with pump-out vanes. There is mechanical seal protection in it. It is designed to operate smoothly. You also have an option of silicon bronze.
Commercial Submersible Sewage Pump Dual Seal with Seal Sensor Probe 3SD
 The maximum efficiency of the pump is ensured heavy-duty cast iron type volute casing. Dual mechanical seals ensure durability and strength. In addition, you have 300 series stainless steel shaft and seal sensor probe.
Features and benefits of PS series
Gould repair parts are available for different series of pumps. Each of these series may have somewhat different applications. One of these series is the PS series, which includes submersible sewage pumps for residential wastewater applications.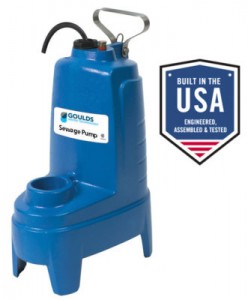 PS Sewage Pumps
These pumps are corrosion resistant construction as they are made from cast iron. In addition, thermoplastic impeller and cover add to their durability, strength, and efficiency. Its upper sleeve and the lower part have heavy-duty ball bearing construction. The pump is powered efficiently and is strong enough to continue working non-stop. Nevertheless, the complete unit is compact and portable, even if it is heavy-duty. The pump comes with stainless steel fasteners.
Goulds Company Overview
The Goulds Pumps is among the oldest companies. Abel Downs, the company founder, began making wooden pumps since 1840 in New York. The company was officially founded in 1848. Then it was known as Downs, Mynderse, and Co. The company continues to enjoy its pre-eminent position in innovative technology and design in fluid solutions.
Pumps' Products Company
Pumps Products is the nation's number one supplier of pumps and pump parts. The company supplies the highest quality motors, pumps, parts, and controls at the lowest prices. The company serves its clients by sizing and selecting the most efficient and dependable pumps, motors, and parts at the best prices anywhere on the market.