Lutz-Jesco MEMDOS MN - Model 40
* Overnight Shipping Available!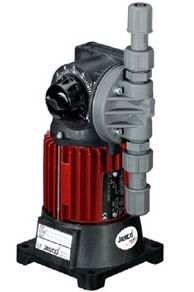 The MEMDOS MN is available as single metering pump with the metering head mounted on the righthand side. Standard materials for the metering heads are rigid PVC, PVDF and stainless steel. Priming and discharge valves are designed as double-ball valves. For metering chemicals with a viscosity higher than approximately. 400 mPas spring-loaded single-ball valves are recommended. The diaphragm flange between metering head and gearbox is designed as separation chamber. In the case of diaphragm rupture resulting from wear the leakage is directed downwards by means of a drainage pipe. A three-phase sectional motor provides the electrical drive. AC operation is also possible.
Key Features:
Max. Pressure (psig) - 75
Capacity (gph) - 10.3
Questions before buying? Ask the expert about this item. Sorry, do not submit repair related questions.

Contact a pump specialist to assist you in finding the right pump or pump part. Our Factory Authorized pump experts can help you find the best solution and the GUARANTEED LOWEST PRICE !
Call 1-800-298-4100
Mon - Fri : 7AM to 4:30 PM
Saturday : 7AM to 1PM Eastern Standard Time

Areas We Serve

New Jersey
New York
Connecticut
Nationwide
Subscribe to our newsletter
Pump Express
190 Main Avenue
Wallington NJ 07057
(800) 298-4100
Copyright ® 2013 Pump Express