Lutz-Jesco MEMDOS E - Model 4
* Overnight Shipping Available!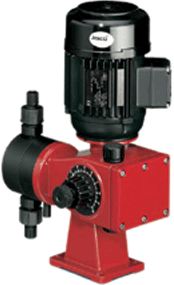 The MEMDOS series is an economical line of motor driven, mechanical diaphragm metering pumps with the base model being the MEMDOS E, which is a manually operated version.
Materials of Construction
PVC, PP, PVDF, PTFE, and 316SS
Features
Capacities up to 92 gph, pressures up to 150 psi Stroke length control features 10:1 turndown Compact design featuring a small footprint means less space required for installation High suction lift capabilities (up to 13 ft.)
Key Features:
GPH - 1.2
Max. Pressure - 150
Max. Speed - 32
Capacity/stroke (ml) - 2.6
Questions before buying? Ask the expert about this item. Sorry, do not submit repair related questions.

Contact a pump specialist to assist you in finding the right pump or pump part. Our Factory Authorized pump experts can help you find the best solution and the GUARANTEED LOWEST PRICE !
Call 1-800-298-4100
Mon - Fri : 7AM to 4:30 PM
Saturday : 7AM to 1PM Eastern Standard Time

Areas We Serve

New Jersey
New York
Connecticut
Nationwide
Subscribe to our newsletter
Pump Express
190 Main Avenue
Wallington NJ 07057
(800) 298-4100
Copyright ® 2013 Pump Express