THE NATION'S LEADING PUMP & PARTS SUPPLIER!
Lutz-Jesco MEMDOS DX - Model 156
* Overnight Shipping Available!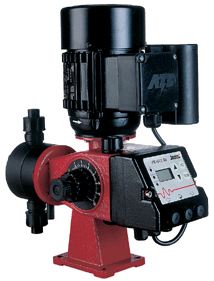 The MEMDOS series is an economical line of motor driven, mechanical diaphragm metering pumps. For applications requiring control by an external control signal, the intelligent MEMDOS DX offers state-of-the-art microprocessor control. By integrating the speed control, the MEMDOS DX eliminates the need for the further expense of additional variable speed controllers.
Features
Integrated speed control with the selection of several control signals; Manual; Pulse/contact control; Analog control... 0/4...20mA; Multiplication/division capabilities; Remote Start/Stop; Input signal monitoring; Collective output alarm Turndown ratio up to 1400:1; NEMA 4X enclosure.
Key Features:
GPH - 42.2
Max. Pressure - 60
Max. Speed - 140 spm
Capacity/stroke (ml) - 19
Questions before buying? Ask the expert about this item. Sorry, do not submit repair related questions.

Contact a pump specialist to assist you in finding the right pump or pump part. Our Factory Authorized pump experts can help you find the best solution and the GUARANTEED LOWEST PRICE !
Call 1-800-298-4100
Mon - Fri : 7AM to 4:30 PM
Saturday : 7AM to 1PM Eastern Standard Time

Copyright ® 2013 Pump Express