Lutz-Jesco Chemical Feed Systems
* Overnight Shipping Available!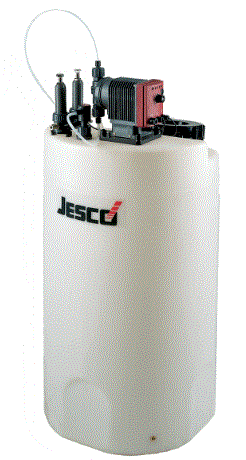 JESCO offers a wide range of custom designed Chemical Feed Systems. These Systems are built to the customer's specifications. Chemical Metering and Control Systems ensure process specifications and industry standards are met. Each System is assembled and thoroughly tested to assure your satisfaction.
Key Features:
Calcium Hypochlorite Briquette Feeder
Calcium Hypochlorite Injection
Caustic Chemical Feed System
Ferric Sulfate Skid System
Motor Driven Metering Pump System
Municipal Chemical Feed System
Powder Activated Carbon (PAC) Chemical Feed System
Pre-Engineered Systems
Proportionator
Sodium Hypochlorite
Injection for Zebra Mussel Control
Wall-Mounted Chemical Feed Systems
Questions before buying? Ask the expert about this item. Sorry, do not submit repair related questions.

Contact a pump specialist to assist you in finding the right pump or pump part. Our Factory Authorized pump experts can help you find the best solution and the GUARANTEED LOWEST PRICE !
Call 1-800-298-4100
Mon - Fri : 7AM to 4:30 PM
Saturday : 7AM to 1PM Eastern Standard Time

Areas We Serve

New Jersey
New York
Connecticut
Nationwide
Subscribe to our newsletter
Pump Express
190 Main Avenue
Wallington NJ 07057
(800) 298-4100
Copyright ® 2013 Pump Express