THE NATION'S LEADING PUMP & PARTS SUPPLIER!
Lutz-Jesco CENTRAN TMP PUMPS
* Overnight Shipping Available!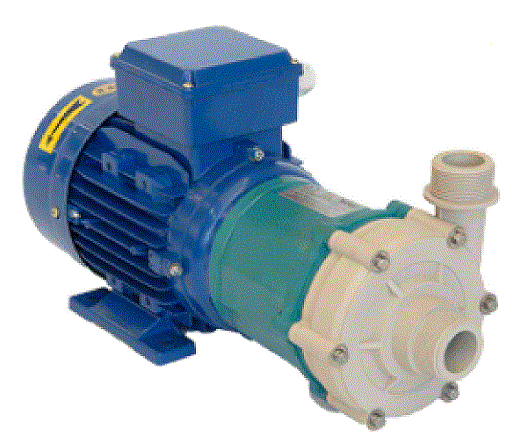 CENTRAM TMP pumps are centrifugal, horizontal axis, and close-coupled with the bodies built entirely of reinforced thermoplastic polymers. The internal components are ceramic oxides, HD carbon, and fluorinated elastomers: which mean any contact of metallic parts with the pumped fluid is avoided. This combination of materials was correctly chosen to obtain the best performance.
Versatility and Performance
All chemicals may be pumped at low and medium temperatures with any of the bodies in GFR-PP (glass fibre reinforced polypropylene) or CFF-E-CTFE (Etylene-ChloroTrifluoroEtylene carbon fibre filled). The strong magnetic coupling is made up of rare-earth materials (Neodimium Iron Boron) and is available in three versions: "N" (standard), "P" (powered) or "S" (strong-powered) , which allow liquids with 1.05 - 1.35 - 1.8 specific gravity (respectively R-N-X) to be pumped at maximum flow. These three internal configurations of constructive materials are suitable for many applications: from clean water to waste and slightly abrasive liquids, strong alkali or salts such as sodium hypochlorite, and acids such as chromic, nitric, sulphuric, etc.
Key Features:
GPM - up to 62
Head Pressure - up to 60 ft.
Questions before buying? Ask the expert about this item. Sorry, do not submit repair related questions.

Contact a pump specialist to assist you in finding the right pump or pump part. Our Factory Authorized pump experts can help you find the best solution and the GUARANTEED LOWEST PRICE !
Call 1-800-298-4100
Mon - Fri : 7AM to 4:30 PM
Saturday : 7AM to 1PM Eastern Standard Time

Copyright ® 2013 Pump Express