THE NATION'S LEADING PUMP & PARTS SUPPLIER!
Crane JD Series Multi-Stage Split Case
* Overnight Shipping Available!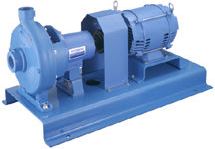 Weinman Split Case Pumps
Weinman split case pumps meet a wide variety of service needs. The L series single-stage and LVM vertically mounted pumps provide large capacity general service pumping. Rugged and reliable, they combine mechanical simplicity with sophisticated hydraulic design. The JD Series multi-stage split case pumps offer reliable, economical, high head pumping for applications such as boiler feed and booster service. Recognized for their quality, efficiency and excellent life cycle cost, Weinman split case pumps meet the design criteria of: ASTM, HI, ANSI, AISI, SAE and AMSE.
Key Features:
Entire rotating element can be removed without disturbing pipe connections or driver
Extra deep stuffing box with split glands
Balanced axial & radial thrust bearings
Seal cages
Clockwise or counter clockwise rotation
Horizontal Mount
Product Availability: OVERNIGHT SHIPPING AVAILABLE ! - PUMP EXPRESS delivers CRANE PUMPS and CRANE PUMP PARTS 24 hrs a day, 7 days a week, 365 days a year DIRECT FROM THE CRANE PUMP MANUFACTURER TO YOUR DOOR.
Questions before buying? Ask the expert about this item. Sorry, do not submit repair related questions.

Contact a pump specialist to assist you in finding the right pump or pump part. Our Factory Authorized pump experts can help you find the best solution and the GUARANTEED LOWEST PRICE !
Call 1-800-298-4100
Mon - Fri : 7AM to 4:30 PM
Saturday : 7AM to 1PM Eastern Standard Time

Copyright ® 2013 Pump Express