THE NATION'S LEADING PUMP & PARTS SUPPLIER!
Rotech Self Priming Centrifugal Utility Pumps ( SPU 4)
* Overnight Shipping Available!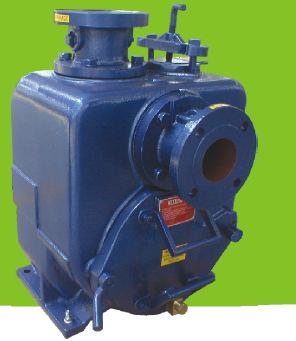 Self priming pumps are designed for economical and trouble-free operation in handling solids-laden liquids and slurries. They feature a large volute design which allows them to re-prime automatically in a completely open system without the need of suction or discharge check valves. And this is workable with the pump only partially filled with liquid and completely dry suction line. Self priming pumps are able to handle up to 75mm spherical solids, depending on pump models. In case the SPT series pump shaft or bearings need service or repair, the entire rotating assembly can be removed without disturbing pump casing or pipelines. Rotating assembly is sealed with an O-Ring, allowing for external adjustments of clearance.
Self priming centrifugal pumps effectively eliminate the requirement of valves, vacuum and ejector pumps which can get clogged or be impractical to use for prolonged operation. SPECIFICATIONS ATTACHED BELOW
Key Features:
Impeller Diam. - 279.4mm (11 in.)
R.P.M. - from 850 rpm to 2150 rpm
Max Solids - 28.57 mm( 1 1/8 in.)
Shipping Wt. - 655 lbs.
Questions before buying? Ask the expert about this item. Sorry, do not submit repair related questions.

Contact a pump specialist to assist you in finding the right pump or pump part. Our Factory Authorized pump experts can help you find the best solution and the GUARANTEED LOWEST PRICE !
Call 1-800-429-0800
Mon - Fri : 7AM to 4:30 PM
Saturday : 7AM to 1PM Eastern Standard Time

Copyright ® 2013 Pump Express