THE NATION'S LEADING PUMP & PARTS SUPPLIER!
Pro Series PHCC Battery Backup Sump Pump System PHCC-2400 (PHCC-2400)
* Overnight Shipping Available!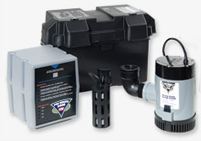 The PHCC Pro Series backup sump pumps have unique monitoring system that sound an alarm when maintenance is needed, or when a problem arises.
Features:
Automatically switches to battery power when AC fails; Recharges automatically; Monitors system conditions and alarms when system need attention; Alarm can be silenced during a power outage; Displays percentage of power remaining in the battery; Runs pump weekly to test for proper operation; Can run directly on AC power; Output terminals for connection to a security system or auto-dialer - Let the system call you; Accommodates up to two (2) B2200 batteries for 16 hours of continuous pumping.
Key Features:
Flow/Amp. Draw @ 0 ft Head - 4000 GPH / 10.5 Amps DC
Flow/Amp. Draw @ 10 ft Head - 2400 GPH / 9.0 Amps DC
Max Head - 17 ft (5.2 M)
Voltage - DC12 VDC
Questions before buying? Ask the expert about this item. Sorry, do not submit repair related questions.

Contact a pump specialist to assist you in finding the right pump or pump part. Our Factory Authorized pump experts can help you find the best solution and the GUARANTEED LOWEST PRICE !
Call 1-800-429-0800
Mon - Fri : 7AM to 4:30 PM
Saturday : 7AM to 1PM Eastern Standard Time

Copyright ® 2013 Pump Express