THE NATION'S LEADING PUMP & PARTS SUPPLIER!
Pro Series PHCC S5 Series Sump Pump S5033 (S5033)
* Overnight Shipping Available!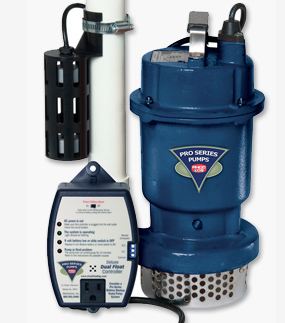 Pro Series primary pumps are built to run continuously 24 hours a day, seven days a week, 365 day a year. They are strong and dependable, and when they are used intermittently in a sump application, it extends the life of the pump.
Features:
Continuous duty construction; Cast iron housing; Energy efficient permanent split capacitor (PSC) motor; Stainless steel shaft; Upper and lower ball bearings; Dual carbon ceramic seals with additional third shaft seal; Dynamically balanced cast iron impeller; Stainless steel fasteners; Stainless steel removable strainer; 20 cord length; Water cooled - no oil.
Key Features:
HP - 1/3
Flow @ 0 ft. Head - 4260 GPH / 71 GPM
Flow @ 10 ft. Head - 3540 GPH / 59 GPM
Max Head - 26 (7.9 M)
Discharge - 1 1/2 in.
Amps - 4
Product Availability: OVERNIGHT SHIPPING AVAILABLE ! - PUMP EXPRESS delivers PHCC PRO SERIES PUMPS and PHCC PRO SERIES PUMP PARTS 24 hrs a day, 7 days a week, 365 days a year DIRECT FROM THE PHCC PRO SERIES PUMP MANUFACTURER TO YOUR DOOR.
Questions before buying? Ask the expert about this item. Sorry, do not submit repair related questions.

Contact a pump specialist to assist you in finding the right pump or pump part. Our Factory Authorized pump experts can help you find the best solution and the GUARANTEED LOWEST PRICE !
Call 1-800-429-0800
Mon - Fri : 7AM to 4:30 PM
Saturday : 7AM to 1PM Eastern Standard Time

Copyright ® 2013 Pump Express