THE NATION'S LEADING PUMP & PARTS SUPPLIER!
Pro Series PHCC Submersible Sump Pump ST1033 (ST1033)
* Overnight Shipping Available!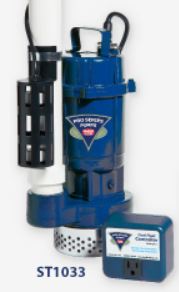 Pro Series primary pumps are built to run continuously 24 hours a day, seven days a week, 365 day a year. They are strong and dependable, and when they are used intermittently in a sump application, it extends the life of the pump.
Features
Cast iron/cast aluminum construction; Energy efficient permanent split capacitor (PSC) motor; Piggy-back dual float switch with protective cage; Continuous duty rated; Stainless steel shaft; Dual carbon/ceramic seals; 10 cord, pump and controller; Will fit in 10 diameter sump pit; 18-month warranty; Water cooled - no oil.
Key Features:
HP - 1/3
Flow @ 0 ft. Head - 4100 GPH/68.3 GPM
Flow @ 10 ft. Head - 2770 GPH/46.1 GPM
Max Head - 31 (9.4 M)
Discharge - 1 1/2
Voltage - 115V
60Hz
Product Availability: OVERNIGHT SHIPPING AVAILABLE ! - PUMP EXPRESS delivers PHCC PRO SERIES PUMPS and PHCC PRO SERIES PUMP PARTS 24 hrs a day, 7 days a week, 365 days a year DIRECT FROM THE PHCC PRO SERIES PUMP MANUFACTURER TO YOUR DOOR.
Q:
Does this pump come with a warrantee ?
by
Jack Brickman
from NJ on February 27,2013
A:
Yes the Pro Series ST1033 has a 18 month Warrantee.

Contact a pump specialist to assist you in finding the right pump or pump part. Our Factory Authorized pump experts can help you find the best solution and the GUARANTEED LOWEST PRICE !
Call 1-800-429-0800
Mon - Fri : 7AM to 4:30 PM
Saturday : 7AM to 1PM Eastern Standard Time

Copyright ® 2013 Pump Express