THE NATION'S LEADING PUMP & PARTS SUPPLIER!
Wilo CronoLine-IL Dry Rotor Inline Centrifugal Circulator (Wilo-CronoLine-IL)
* Overnight Shipping Available!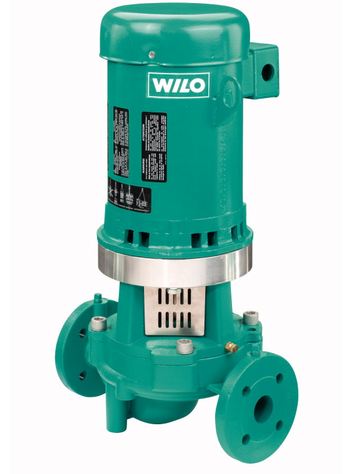 Single-stage, inline, flanged, long-coupled, mechanical sealed dry rotor pump for use with hot water heating systems, chilled water air-conditioning systems, close- cooling circuits and industrial circulation systems. Pump features include: Integral suction diffuser cast in volute inlet (larger models only); Pump flanges 125 # raised face ANSI std (250 # ANSI optional); Cataphoretic coating for corrosion protection; Impeller trims for specific applications; Pump feet drilled and tapped for ease of installation; All bolts "non-metric"; Motor stool includes extra tappings for removal from volute ("back-out screws"); Couplings include spacers and does not require dial indicators for alignment.
Key Features:
Temperature range: -5 F to + 285 F (-20 C to +140 C)
Power supply (smaller horsepower): 1~115/208-230 volt / 60 Hz
Power supply (larger horsepower): 3~208-230/460
575 volt / 60 Hz
Motor options: ODP / TEFC / Premium and "Super E" efficiency types - 2 and 4 pole available (3450 and 1750 RPM)
Flange connection: 1 " to 4" NPT with " pressure gage tappings
Maximum operating pressure 250 PSI (16 bar) minimum inlet pressure NPSHreq dependant (see detailed curves)
Questions before buying? Ask the expert about this item. Sorry, do not submit repair related questions.

Contact a pump specialist to assist you in finding the right pump or pump part. Our Factory Authorized pump experts can help you find the best solution and the GUARANTEED LOWEST PRICE !
Call 1-800-298-4100
Mon - Fri : 7AM to 4:30 PM
Saturday : 7AM to 1PM Eastern Standard Time

Copyright ® 2013 Pump Express