BJM SKX15CSSF-460T FAHRENHEIT Shredder Pump (SKX15CSSF-460T)
* Overnight Shipping Available!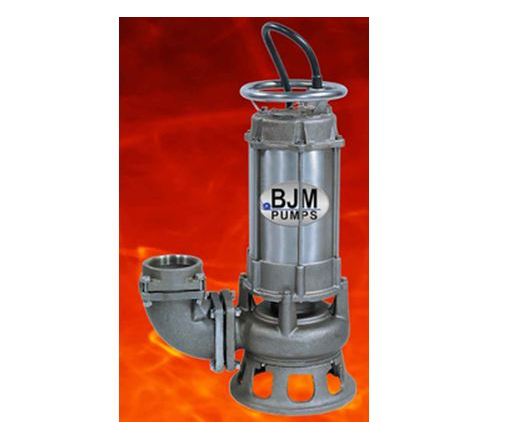 316 Cast Stainless Steel Pumps with Shredder Action Impellers for Municipal, Industrial and Agricultural Waste-Water feature side discharge and non-clog single vane or double vane impellers for the passing of solids while delivering high volume of liquids.
The Shredder (SKXF) pumps leave solids slightly larger than if passed through a grinder pump. The shredding action is caused by using a cutting impeller with a Tungsten Carbide Tip, against a "spiral" shaped diffuser plate. All wear and "wet" parts such as impeller, wear-plate, oil housing, pump-housing and inner pump top are made of Cast 316 stainless material. The elastomers such as o-rings, lip seals and gaskets are made of FMK.
WATCH THE BJM SHREDDER PUMP IN ACTION!
Key Features:
Horsepower - 2
Volts - 460
Rated Amps - 3
Max GPM - 185
Phase - 3
Questions before buying? Ask the expert about this item. Sorry, do not submit repair related questions.

Contact a pump specialist to assist you in finding the right pump or pump part. Our Factory Authorized pump experts can help you find the best solution and the GUARANTEED LOWEST PRICE !
Call 1-800-298-4100
Mon - Fri : 7AM to 4:30 PM
Saturday : 7AM to 1PM Eastern Standard Time

Areas We Serve

New Jersey
New York
Connecticut
Nationwide
Subscribe to our newsletter
Pump Express
190 Main Avenue
Wallington NJ 07057
(800) 298-4100
Copyright ® 2013 Pump Express