THE NATION'S LEADING PUMP & PARTS SUPPLIER!
BJM SKX08CSSF-208T FAHRENHEIT Shredder Pump (SKX08CSSF-208T)
* Overnight Shipping Available!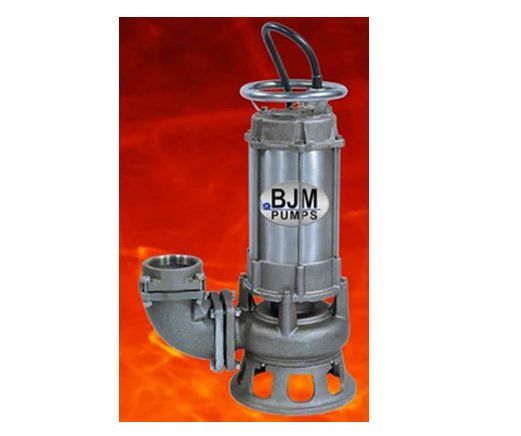 316 Cast Stainless Steel Pumps with Shredder Action Impellers for Municipal, Industrial and Agricultural Waste-Water feature side discharge and non-clog single vane or double vane impellers for the passing of solids while delivering high volume of liquids.
The Shredder (SKXF) pumps leave solids slightly larger than if passed through a grinder pump. The shredding action is caused by using a cutting impeller with a Tungsten Carbide Tip, against a "spiral" shaped diffuser plate. All wear and "wet" parts such as impeller, wear-plate, oil housing, pump-housing and inner pump top are made of Cast 316 stainless material. The elastomers such as o-rings, lip seals and gaskets are made of FMK.
WATCH THE BJM SHREDDER PUMP IN ACTION!
Key Features:
Horsepower - 1
Volts - 208
Rated Amps - 3.5
Max GPM - 95
Phase - 3
Q:
I run a motel business and am constantly having a problem with my sewage pumps getting clogged. It seems that the patrons are flushing synthetic products down the toilets and our pump system is constantly clogging. Will these BJM Shredder pumps relieve my problem ?
by
Carl Malone
from CT on February 27,2013
A:
The bjm Shredder Pump is designed to literally shred and eat raw sewage including plastics, metals, food wastes and fibrous solids. Check out the BJM shredder pump video on this product page to see the pump in action. This BJM model SKX08CSSF-208T FAHRENHEIT Shredder Pump is for high temperature applications as well. Pump express can help you pick the proper shredder pump for your applicaction, so give us a call.

Contact a pump specialist to assist you in finding the right pump or pump part. Our Factory Authorized pump experts can help you find the best solution and the GUARANTEED LOWEST PRICE !
Call 1-800-298-4100
Mon - Fri : 7AM to 4:30 PM
Saturday : 7AM to 1PM Eastern Standard Time

Copyright ® 2013 Pump Express