THE NATION'S LEADING PUMP & PARTS SUPPLIER!
Goulds Vertical In-Line Self-Priming Centrifugal Pump (20EVP-10A)
* Overnight Shipping Available!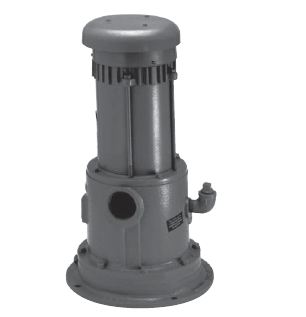 STANDARD UNIT INCLUDES:
PUMP: Heavy-duty cast iron construction, with 2" NPT female threaded, in-line suction and discharge ports. This compact, vertical design is self-supporting and requires a minimum of fl oor space. The self-priming feature allows the pump to be mounted above the liquid and suction lifts of 10 to 20 can be achieved, depending on the liquid and the pump model. Diffuser priming eliminates the need for a check valve and reduces radial loads insuring longer bearing life. These pumps are sealed by a self-lubricating, Viton mechanical shaft seal. When used on a suction lift any leakage that may occur will be down into the pump rather than up the motor shaft as the seal is on the suction side of the impeller. MOTOR: Single phase motors are 60 cycle, 115/230 volt, except 2 HP explosion proof motors which are 230 volt only. Three phase motors are 60 cycle, 230/460 volt and all are 3450 RPM motors. All explosion proof motors are Class I, Group D, Code: T3B. OPTIONAL MOUNTING: All models fi t the Marlow Pumps lightweight, two wheel chassis. Kit illustrated in Section 800. OPTIONAL SEAL: Kalrez mechanical seals are available. Contact factory for more information.
Key Features:
Maximum Size Solids Handled - 3/16 In.
Questions before buying? Ask the expert about this item. Sorry, do not submit repair related questions.

Contact a pump specialist to assist you in finding the right pump or pump part. Our Factory Authorized pump experts can help you find the best solution and the GUARANTEED LOWEST PRICE !
Call 1-800-298-4100
Mon - Fri : 7AM to 4:30 PM
Saturday : 7AM to 1PM Eastern Standard Time

Copyright ® 2013 Pump Express