THE NATION'S LEADING PUMP & PARTS SUPPLIER!
Hydromatic Battery Backup Sump Pump Systems (FG-200A)
* Overnight Shipping Available!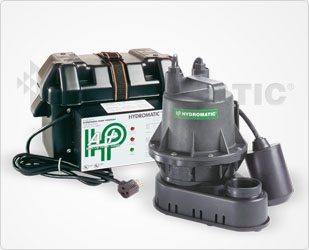 Battery Backup Sump Pump Systems
Backup battery sump pump systems are available in different configurations to suit your existing sump system. They provide the security of a complete additional sump pump as well as additional pumping capacity in the event your main pump cannot keep up; or the simplicity of a single pump with battery backup operation in the case of power outage..
Key Features:
Key features
Automatically Charges The Battery
A+ System Uses A Single Pump Where Pit Space Is At A Premium
FG-100A & FG-200A Each Include A Separate Pump and Switch Providing Additional Backup In Case of Main Pump or Switch Failure
Indicator Lights Show Status of System At All Times
Electronics Are Fan-Cooled For Maximum Efficiency and Reliability
Powder Coated Electronics Enclosure for Maximum Durability and Corrosion Resistance
A+ System Automatically Checks for Restored Power in the AC Line Every 5 Minutes
FG-100A & FG-200A Systems Operate Any Time Their Switch Is Activated Whether AC Power Is On or Not
Battery Sold Separately
Questions before buying? Ask the expert about this item. Sorry, do not submit repair related questions.

Contact a pump specialist to assist you in finding the right pump or pump part. Our Factory Authorized pump experts can help you find the best solution and the GUARANTEED LOWEST PRICE !
Call 1-800-429-0800
Mon - Fri : 7AM to 4:30 PM
Saturday : 7AM to 1PM Eastern Standard Time

Copyright ® 2013 Pump Express