THE NATION'S LEADING PUMP & PARTS SUPPLIER!
Federal Federal VSA Column Pump (VSA-4A)
* Overnight Shipping Available!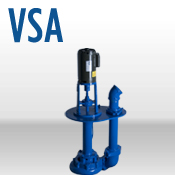 Federal VSA Column Pump
Features
MOTOR: Nationally known manufacturer. Single phase motors in fractional horsepower frame sizes have built-in overload protection. Other motors should be protected by magnetic starters.
FLEXIBLE COUPLING: Machined and balanced.
THRUST BEARING: Ball bearing mounted above suspension plate in dust-proof and moisture-proof housing.
ADJUSTING NUTS: Two bronze lock nuts for accurate vertical adjustment of impeller clearance.
SUSPENSION PLATE: Cast iron plate has integral strengthening ribs.
DISCHARGE PIPE: Steel, locked to suspension plate, held in bottom elbow by mating flange, forming bottom expansion joint.
TOP DISCHARGE ELBOW: Cast iron 45 degree elbow with integral 125# ASA standard discharge flange and top expansion joint ring.
IMPELLER: One-piece, bronze or cast iron, non-clog, balanced, keyed and locked to shaft.
SHAFT: Carbon steel, turned and ground, sized for maximum load.
SUSPENSION LEG: Cast iron sections with integrally cast end flanges.
GUIDE BEARINGS: Renewable bronze sleeve type intermediate bearings for each four feet of unsupported shaft length plus bottom guide bearing in pump casing.
CASING: Cast iron with smooth water passages.
LUBRICATION SYSTEM: Intermediate and bottom guide bearings are lubricated through flexible grease lines. Alemite fitting furnished above the suspension plate for each grease line.
BASINS AND PITS: Sewage basins of fiberglass or steel construction are available. Also, steel covers and grouting frames for concrete pits.
BOARD OF STANDARDS AND APPEALS LISTING: Federal VSA sewage pumps are listed and approved by the New York City Board of Standards and Appeals, Calendar No. 741-50-SA.
Key Features:
Wet-Pit Installations
Pumps Suspend From Pit Or Basin Cover
Non-Clog Impellers
1750 RPM 1150 RPM Operation
Steel Or Fiberglass Basins
Steel Covers And Grouting Frames For Concrete Pits Control Systems Available
Product Availability: OVERNIGHT SHIPPING AVAILABLE ! - PUMP EXPRESS delivers FEDERAL PUMPS and FEDERAL PUMP PARTS 24 hrs a day, 7 days a week, 365 days a year DIRECT FROM THE FEDERAL PUMP MANUFACTURER TO YOUR DOOR.
Questions before buying? Ask the expert about this item. Sorry, do not submit repair related questions.

Contact a pump specialist to assist you in finding the right pump or pump part. Our Factory Authorized pump experts can help you find the best solution and the GUARANTEED LOWEST PRICE !
Call 1-800-429-0800
Mon - Fri : 7AM to 4:30 PM
Saturday : 7AM to 1PM Eastern Standard Time

Copyright ® 2013 Pump Express