Barnes Series 126 Submersible Dewatering Pump (115126)
* Overnight Shipping Available!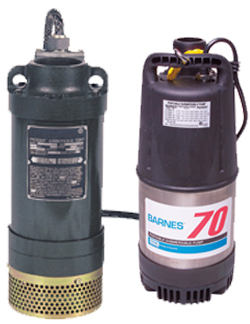 These pumps are compact, lightweight units and highly portable. Designed specifically for use by contractors and utility service personnel. Before pumping fluids other than water consult the factory, giving fluid, fluid temperature, specific gravity, viscosity, capacity in USGPM and total head and/or pressure requirements, including friction loss through discharge line, fittings, valves, etc.
Key Features:
DIM inch (mm) - 18.54 (471)
HP - 1.25
Volt/PH - 240/1
Hz - 60
RPM - 3450
Full Load Amps - 7.6
Pump Weight - 35 lbs. (15.9kg)
Product Availability: OVERNIGHT SHIPPING AVAILABLE ! - PUMP EXPRESS delivers BARNES PUMPS and BARNES PUMP PARTS 24 hrs a day, 7 days a week, 365 days a year DIRECT FROM THE BARNES PUMP MANUFACTURER TO YOUR DOOR.
Questions before buying? Ask the expert about this item. Sorry, do not submit repair related questions.

Contact a pump specialist to assist you in finding the right pump or pump part. Our Factory Authorized pump experts can help you find the best solution and the GUARANTEED LOWEST PRICE !
Call 1-800-298-4100
Mon - Fri : 7AM to 4:30 PM
Saturday : 7AM to 1PM Eastern Standard Time

Areas We Serve

New Jersey
New York
Connecticut
Nationwide
Subscribe to our newsletter
Pump Express
190 Main Avenue
Wallington NJ 07057
(800) 298-4100
Copyright ® 2013 Pump Express