Barnes Series 71 Submersible Dewatering Pump (115071)
* Overnight Shipping Available!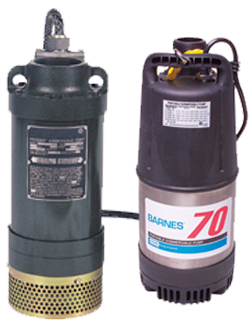 Slim-line design allows Prosser pumps to fit where other pumps cant. Light weight for easy portability. Require no priming, suction hose or foot valve. Just submerge and they are ready to go. Operate in any position. Able to run dry for a reasonable period of time without damage. Inline design ensures cool-running motor. Inline suction and discharge allow pumps to operate doubling head at a given flow, which provides versatility in jobs site variations.
Key Features:
DIM inch (mm) - 17.76 (451)
HP - 0.7
Volt/PH - 240/1
Hz - 60
RPM - 3450
Full Load Amps - 4.0
Pump Weight - 30 lbs. (13.6kg)
Questions before buying? Ask the expert about this item. Sorry, do not submit repair related questions.

Contact a pump specialist to assist you in finding the right pump or pump part. Our Factory Authorized pump experts can help you find the best solution and the GUARANTEED LOWEST PRICE !
Call 1-800-298-4100
Mon - Fri : 7AM to 4:30 PM
Saturday : 7AM to 1PM Eastern Standard Time

Areas We Serve

New Jersey
New York
Connecticut
Nationwide
Subscribe to our newsletter
Pump Express
190 Main Avenue
Wallington NJ 07057
(800) 298-4100
Copyright ® 2013 Pump Express