Little Giant 300 GPH Direct-Drive Pond Pump PE-2F-PW (566611)
* Overnight Shipping Available!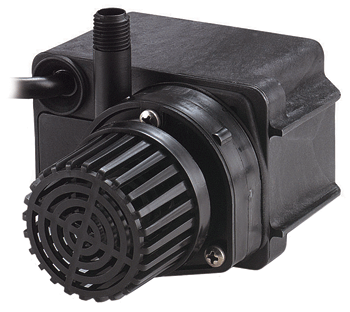 Epoxy filled pump is compact in design, produces superior water flow and has corrosion resistant plastic housing. Ideal for the water gardening environment.

Features:
Circulates Ponds up to 400 Gallons, Fountain Nozzles and Biological Filters, 3 year warranty, Maximum Pumping Height 12.0, 1/4" MNPT Discharge, Accepts 1/2" ID Tubing
Key Features:
Horsepower 1/40
Flow 300 GPH @ 1
Cord Length 15
Shut Off 12.0
Voltage 115
Hertz 60
Amps 0.8
Watts 47
Weight 4.83
Height 4.2
Width 3.7
Length 5.6
Questions before buying? Ask the expert about this item. Sorry, do not submit repair related questions.

Contact a pump specialist to assist you in finding the right pump or pump part. Our Factory Authorized pump experts can help you find the best solution and the GUARANTEED LOWEST PRICE !
Call 1-800-298-4100
Mon - Fri : 7AM to 4:30 PM
Saturday : 7AM to 1PM Eastern Standard Time

Areas We Serve

New Jersey
New York
Connecticut
Nationwide
Subscribe to our newsletter
Pump Express
190 Main Avenue
Wallington NJ 07057
(800) 298-4100
Copyright ® 2013 Pump Express