THE NATION'S LEADING PUMP & PARTS SUPPLIER!
Little Giant LG-102 Tube Pump ( 575192)
* Overnight Shipping Available!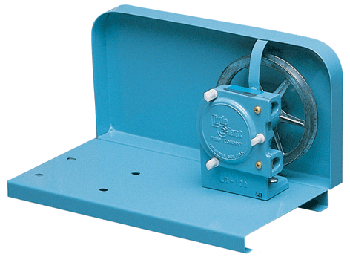 LG-102 Tube Pump
For chemicals that attack pump parts. Tube Pumps are specifically designed to handle fluids that should not be exposed to pump parts. Fluid movement is achieved by revolving roller arms that squeeze fluid through a tube. The fluid being pumped comes in contact only with the tube. Ideal for moving solutions such as slurries, harsh chemicals, detergents, sludge, sterile fluids, syrups, and metered solutions. Motors, motor pulleys, tubing and V-belts are not included with Little Giant Tube Pumps. Additional items needed.

Features: Peristaltic, 3/16" ID x 7/16" OD or 1/4" ID x 1/2" OD, 6" pulley, w/ base
Key Features:
Shut Off 0
Weight 12
Height 9.38
Width 9.63
Length 15
Questions before buying? Ask the expert about this item. Sorry, do not submit repair related questions.

Contact a pump specialist to assist you in finding the right pump or pump part. Our Factory Authorized pump experts can help you find the best solution and the GUARANTEED LOWEST PRICE !
Call 1-800-298-4100
Mon - Fri : 7AM to 4:30 PM
Saturday : 7AM to 1PM Eastern Standard Time

Copyright ® 2013 Pump Express