THE NATION'S LEADING PUMP & PARTS SUPPLIER!
Little Giant Parts Washer Pump 2E-NYS (502020)
* Overnight Shipping Available!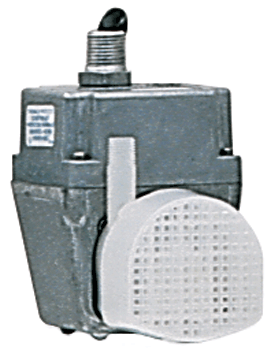 Specialty Pumps 2E-NYS
Designed for submerged use only, this pump is intended for use in UL-listed parts cleaners. For pumping unheated metal parts cleaning solvent which is UL classified as PJQU, as described in the Gas and Oil Equipment Directory. These refined petroleum distillates are free from tendency to heat spontaneously; they have a closed cup flash point not lower than 100 degrees F.

Features: 1/2" MNPT conduit fitting, 1/40 HP oil-filled motor, 300 GPH @ 1 maximum flow rate, Intermittent liquid temp. to 120F, Cast aluminum housing, Hooded intake, 1/4" MNPT discharge, Nylon volute & impeller, Viton shaft seal, Nylon screen, Thermal overload protection
Key Features:
Flow 300 GPH @ 1 of Head Cord Length 6 Shut Off 11.8 Voltage 115 Hertz 60 Amps 1.7 Weight 4.83 Height 5.6 Width 3.5 Length 5.5
Questions before buying? Ask the expert about this item. Sorry, do not submit repair related questions.

Contact a pump specialist to assist you in finding the right pump or pump part. Our Factory Authorized pump experts can help you find the best solution and the GUARANTEED LOWEST PRICE !
Call 1-800-298-4100
Mon - Fri : 7AM to 4:30 PM
Saturday : 7AM to 1PM Eastern Standard Time

Copyright ® 2013 Pump Express