Little Giant Machine Coolant Tank MCT-10 MCT-10 (560300)
* Overnight Shipping Available!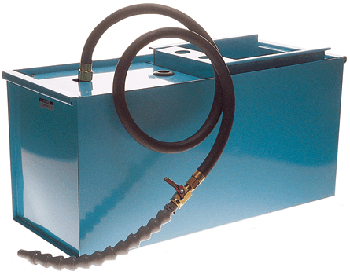 Machine Coolant Tank MCT-10 MCT-10
For us with medium size lathes, grinders, cut off machines, milling and drilling machines using water soluble or light cutting oil. Includes all adapters and fittings for use with recommended pumps.

Features: 10 gallon metal tank w/ baffle, 4" neoprene hose w/ brass nuts, Plastic flex nozzle and brass control valve, Removable chip collector tray and splash deflector, NOTE: This unit does not include pump
Key Features:
Shut Off 0
Weight 31
Height 11.38
Width 25
Length 10
Questions before buying? Ask the expert about this item. Sorry, do not submit repair related questions.

Contact a pump specialist to assist you in finding the right pump or pump part. Our Factory Authorized pump experts can help you find the best solution and the GUARANTEED LOWEST PRICE !
Call 1-800-298-4100
Mon - Fri : 7AM to 4:30 PM
Saturday : 7AM to 1PM Eastern Standard Time

Areas We Serve

New Jersey
New York
Connecticut
Nationwide
Subscribe to our newsletter
Pump Express
190 Main Avenue
Wallington NJ 07057
(800) 298-4100
Copyright ® 2013 Pump Express