THE NATION'S LEADING PUMP & PARTS SUPPLIER!
Berkeley 6T Subturbine Series (6T)
* Overnight Shipping Available!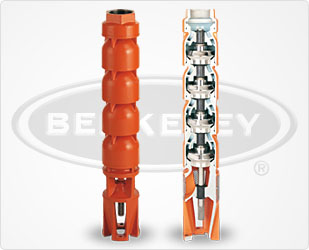 6T Subturbine Series
BERKELEY 6T Series pumps offer maximum abrasion resistance. These pumps are proven performers for a wide range of applications from clean municipal wells to the harshest agricultural wells. Abrasion resistant features include: Investment Cast 304 Stainless Steel Impellers and Neoprene Rubber Bearings for maximum life and performance.
Key Features:
Heavy Duty Discharge Adapter
Factory Pre-set Upthrust Washers
Heavy-Walled Class 30 Cast Iron Bowls
Stainless Steel Impellers
Unique Neoprene Bearing Design
416 Stainless Steel Pump Shaft
Heavy-Duty Stainless Steel Suction Strainer
Heavy-Duty Cast Iron Suction Bracket
Low Profile
Full-Length Stainless Steel Cable Guard
Questions before buying? Ask the expert about this item. Sorry, do not submit repair related questions.

Contact a pump specialist to assist you in finding the right pump or pump part. Our Factory Authorized pump experts can help you find the best solution and the GUARANTEED LOWEST PRICE !
Call 1-800-298-4100
Mon - Fri : 7AM to 4:30 PM
Saturday : 7AM to 1PM Eastern Standard Time

Copyright ® 2013 Pump Express