Weinman G-K Series End Suction
* Overnight Shipping Available!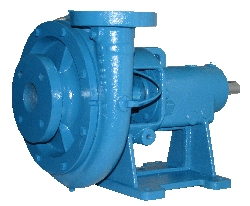 Weinman G-K Series
Weinman versatile end-suction pumps are heavy duty, general purpose centrifugal pumps with heavy wall castings suitable for many commercial and industrial applications such as condenser, chilled, and hot water systems in HVAC and process secondary pumping. High efficiencies, robust case construction of cast iron, and impeller construction of bronze makes these pumps an ideal selection for applications that require easy-to-maintain, reliable, long lasting pumps.
Key Features:
Flanged connection
Direct drive motor operated
Bronze impeller
Extra deep stuffing box with seal cage
Renewable bronze shaft sleeve
Renewable bronze suction cover ring
Cast iron case
Product Availability: OVERNIGHT SHIPPING AVAILABLE ! - PUMP EXPRESS delivers WEINMAN PUMPS and WEINMAN PUMP PARTS 24 hrs a day, 7 days a week, 365 days a year DIRECT FROM THE WEINMAN PUMP MANUFACTURER TO YOUR DOOR
Questions before buying? Ask the expert about this item. Sorry, do not submit repair related questions.

Contact a pump specialist to assist you in finding the right pump or pump part. Our Factory Authorized pump experts can help you find the best solution and the GUARANTEED LOWEST PRICE !
Call 1-800-298-4100
Mon - Fri : 7AM to 4:30 PM
Saturday : 7AM to 1PM Eastern Standard Time

Areas We Serve

New Jersey
New York
Connecticut
Nationwide
Subscribe to our newsletter
Pump Express
190 Main Avenue
Wallington NJ 07057
(800) 298-4100
Copyright ® 2013 Pump Express