THE NATION'S LEADING PUMP & PARTS SUPPLIER!
Laing UCT-909 Re-Circulating Pumps
* Overnight Shipping Available!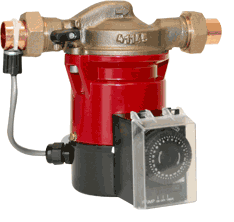 UCT-909-Tankless
The LAING RECIRCULATING PUMP - UCT-909-Tankless is a timer and temperature controlled circulator. This innovative product design provides a controlled hot water recirculation system for tankless water heaters. The benefits of tankless water heater systems are increased by adding the luxury and convenience of instant hot water at all fixtures in the home. The strap on temperature sensor regulates the system temperature and limits the length of time the tankless heater will be operating during there circulation period. The system will maintain a constant temperature at all fixtures in the home providing the immediate availability of hot water.The built in 24 hour timer also allows you to select the times of day that you wish to have the system cycle. The timer is programmable in hour increments and multiple on/off settings can be programmed. A built-in ball valve and check valve allows for quick and easy installation and service.
Key Features:
Compact spherical motor design
Energy efficient
Silent operation
24 hour timer
Strap-on temperature control
union connections for quick and easy installation
Built-in ball valve and builtin check valve
Product Availability: OVERNIGHT SHIPPING AVAILABLE ! - PUMP EXPRESS delivers LAING PUMPS and LAING PUMP PARTS 24 hrs a day, 7 days a week, 365 days a year DIRECT FROM THE LAING PUMP MANUFACTURER TO YOUR DOOR.
Questions before buying? Ask the expert about this item. Sorry, do not submit repair related questions.

Contact a pump specialist to assist you in finding the right pump or pump part. Our Factory Authorized pump experts can help you find the best solution and the GUARANTEED LOWEST PRICE !
Call 1-800-429-0800
Mon - Fri : 7AM to 4:30 PM
Saturday : 7AM to 1PM Eastern Standard Time

Copyright ® 2013 Pump Express