THE NATION'S LEADING PUMP & PARTS SUPPLIER!
Laing Laing SM Series Circulator Pumps (SM-303-B)
* Overnight Shipping Available!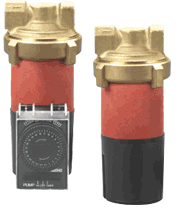 Laing SM-Series
Saves 68% electricity compared to a standard circulating pump. The ecocircpumps highly efficient ECM (Electronically Commutated Motor) design results in significant energy savings
With improved performance: Through microprocessor technology the motor is provided the precise frequency and voltage for optimum performance.
A permanent magnet motor eliminates the requirement for input power to magnetize the rotor, thus maximizing efficiency. This unique design offers superior starting torque when compared with standard induction motor type pumps

Key Features:
Highly efficient ECM Technology
Long lasting
silent operation
Resistant to scale build up
Maintenance free without blockage
Extended service life
Single bearing design
Shaftless and sealless
Union sweat connections
Q:
I bought my new home 5 years ago and a Laing SMT 303 BTW came with my hot water heater system. Over the past month it has not been working. I opened it up and noticed it would spin and put it back on line. It worked but was noisy and grinding. It eventually stoped last night and when I opened it up this afternoon it would spin but the rotation looked off center. Should I try a repair kit or does it seem to he un repairable? Please advise 480-510-0025
by
Guy Shelander
from AZ on March 04,2013
A:
Guy,
Unfortunately the SM-303-BTW was discontinued in 2011 and parts are no longer available. Laing does make a replacement pump with the same performance that pump is E1-BCTNN1W-06.
Thanks Fred H.

Contact a pump specialist to assist you in finding the right pump or pump part. Our Factory Authorized pump experts can help you find the best solution and the GUARANTEED LOWEST PRICE !
Call 1-800-298-4100
Mon - Fri : 7AM to 4:30 PM
Saturday : 7AM to 1PM Eastern Standard Time

Copyright ® 2013 Pump Express