THE NATION'S LEADING PUMP & PARTS SUPPLIER!
Laing D5 Solar Circulator Pumps
* Overnight Shipping Available!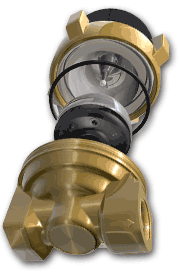 D5 Solar
Go Green! Save Green! with green products
How the Pump Works
The first DC spherical motor pump for direct connection to photovoltaic panels with automatic performance optimization using Maximum Power Point (MPP) tracking will vary its flow and power consumption based on the available solar energy.The D5 Solar can run off of as little as 1 watt and will increase in speed and performance as the solar panel output increases.
The D5 Solar pump can be used for most circulation pump applications without connection to the power grid. Highly efficient, the D5 Solar can be connected directly to a photovoltaic panel. It is characterized by its small size, high efficiency, extremely low power consumption and its over temperature safety shut off device. The shaftless spherical motor technology provides maintenance free and quiet service life. This pump is also perfect for single family home thermal solar systems or any circulation pump application where conventional power is not available.
The Principle of the Spherical Motor
Invented by Laing, it is fundamentally different from conventional canned motor pumps. The only moving part in a spherical motor is a hemispherical rotor/impeller unit which sits on an ultra-hard, wear-resistant ceramic ball. There are no conventional shaft bearings or seals. This eliminates bearing noise and seal leaks. This pump is robust and has an estimated service life in excess of 50,000 hours. The D5 Solar can be easily and safely installed by following detailed instructions from a Laing Installation Guide.
Key Features:
Features:
DC Spherical motor pump for direct connection to photovoltaic panels
Automatic performance optimization using MPP (Maximum Power Point) Technology
Start-up on less than 1 Watt
Long pump life (50
000 hours +)
Product Availability: OVERNIGHT SHIPPING AVAILABLE ! - PUMP EXPRESS delivers LAING PUMPS and LAING PUMP PARTS 24 hrs a day, 7 days a week, 365 days a year DIRECT FROM THE LAING PUMP MANUFACTURER TO YOUR DOOR.
Questions before buying? Ask the expert about this item. Sorry, do not submit repair related questions.

Contact a pump specialist to assist you in finding the right pump or pump part. Our Factory Authorized pump experts can help you find the best solution and the GUARANTEED LOWEST PRICE !
Call 1-800-298-4100
Mon - Fri : 7AM to 4:30 PM
Saturday : 7AM to 1PM Eastern Standard Time

Copyright ® 2013 Pump Express