THE NATION'S LEADING PUMP & PARTS SUPPLIER!
Laing DDC Motor Pumps - Threaded
* Overnight Shipping Available!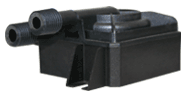 DDC Pump - Threaded
How the DDC Pump Works: The permanent magnet rotor/impeller unit is driven by the magnetic field generated by the surrounding stator. The stator is wrapped entirely around the rotor. As a result, the entire pump is only slightly taller than the rotor itself, measuring only 1.5" in height, perfect for applications where space is limited.
The Principle of the Spherical Motor:
Invented by Laing, it is fundamentally different from conventional canned motor pumps. The only moving part in a spherical motor is a hemispherical rotor/impeller unit which sits on an ultra-hard, wear-resistant ceramic ball. There are no conventional shaft bearings or seals. This eliminates bearing noise and seal leaks.
E Series Pumps:
The bigger, but still little brother of the tiny DDC, the E Series models, are also of the electronically communicated spherical motor principle. It is used in applications where more flow rate is needed. It is also awarded and regarded as one of the best pumps in the market.
Key Features:
Applications:
Solar
Electronics Cooling
Computer Cooling
Chillers
Medical Applications
Laser Cooling
Water Treatment
Automotive
Food Service Circulation
Water Reclamation
General Circulation Application
Questions before buying? Ask the expert about this item. Sorry, do not submit repair related questions.

Contact a pump specialist to assist you in finding the right pump or pump part. Our Factory Authorized pump experts can help you find the best solution and the GUARANTEED LOWEST PRICE !
Call 1-800-298-4100
Mon - Fri : 7AM to 4:30 PM
Saturday : 7AM to 1PM Eastern Standard Time

Copyright ® 2013 Pump Express