THE NATION'S LEADING PUMP & PARTS SUPPLIER!
Laing D5-38 Vario Brass Circulator Pumps (710B)
* Overnight Shipping Available!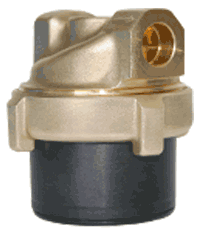 D5-38 Vario
Variable Speed - High Efficiency Magnetic Drive Direct Current Circulator
The Ecocirc electrically commuted spherical motor design offers many benefits over other pump styles. The Laing design operates on extremely low power input at a specified nominal voltage from 8 to 24 volts; the spherical permanent magnet eliminates impeller slippage which makes the Laing pump up to 40% more efficient than a standard induction motor. The motor has no shaft and therefore no shaft seal that is a wear point and potential leak path. Pump operation is virtually silent, with a low 35 db noise level. The brushless motor has a lifetime in excess of 50,000 hours when operated at nominal voltage and can be powered directly by solar panels, battery or other DC power sources. The unique screw ring design for this series of pumps allows for changing motors without disturbing the pump housing piping. The vario also features a potentiometer which allows the user to dial in the speed they need for the application.
Key Features:
Applications:
Solar systems
Computer cooling systems
Circulating systems for homes
RVs and boats
Engine block circulating systems
Juice machines
Aquariums and ponds
Oxygen generating systems
Vending machines
Water fountains
Process temperature control
Remote area fluid handling
Questions before buying? Ask the expert about this item. Sorry, do not submit repair related questions.

Contact a pump specialist to assist you in finding the right pump or pump part. Our Factory Authorized pump experts can help you find the best solution and the GUARANTEED LOWEST PRICE !
Call 1-800-298-4100
Mon - Fri : 7AM to 4:30 PM
Saturday : 7AM to 1PM Eastern Standard Time

Copyright ® 2013 Pump Express