THE NATION'S LEADING PUMP & PARTS SUPPLIER!
Grundfos UP10-16BN5 LC Re-Circulator Pump (96433897)
* Overnight Shipping Available!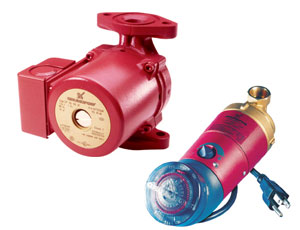 UP10-16BN5 LC
Grundfos Pumps has developed several circulator pump models to meet the needs of Domestic Hot Water Recirculation systems, otherwise known as Instant Hot Water.
These models are available with various configurations including bronze housings with 1/2" & 3/4" sweat (B5 & B7) and stainless steel housings with union threaded connections (SU). Also, Grundfos has developed the first circulators that include an integrated check valve inside a union fitting on a sweat pump housing (BUC5 & BUC7).
These models have been fitted with the options of built-in 115 volt line cord (LC) or line cord and 24 hour programmable timer (TLC).
As with other Grundfos circulators pumps, these feature the following:
Easy to install user friendly application of product.
Wet rotor design for quiet, maintenance free operation.
Stainless Steel rotor cladding and canister construction to prevent corrosion.
Composite impeller design for optimal application performance.
Built-in 6 foot, 115 volt ac line cord (LC & TLC models) with a NEMA, 3 prong male plug.
Optional Built-in 24 hour programmable timer and line cord (TLC models).
Fully grounded connection (LC & TLC models).
UL Recognized strain relief and wire connections (LC & TLC models).
All models are fully UL Recognized.
Each unit is run and High Pot tested.
Available volute configurations include bronze sweat (B5&7), bronze sweat with integrated check valve in a bronze union fitting (BUC5&7), and stainless steel union (SU).
Designed specifically for Hot Water Recirculation applications.
Key Features:
1/2" F NPT
115 Volt
6 Ft. Line Cord
Integral Check Valve
Questions before buying? Ask the expert about this item. Sorry, do not submit repair related questions.

Contact a pump specialist to assist you in finding the right pump or pump part. Our Factory Authorized pump experts can help you find the best solution and the GUARANTEED LOWEST PRICE !
Call 1-800-298-4100
Mon - Fri : 7AM to 4:30 PM
Saturday : 7AM to 1PM Eastern Standard Time

Copyright ® 2013 Pump Express