Little Giant LC-110 Safety Switch (599500 )
* Overnight Shipping Available!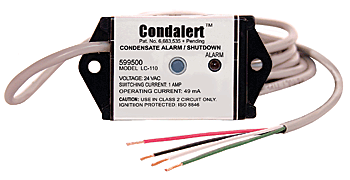 Condelert Condensate Overflow Detection
Little Giants new Condalert safety switches are designed for the air handling industry to provide low-cost, reliable equipment shutdown when water leaks or potential condensate drain overflow conditions are detected; shutting off the system, preventing expensive damage and clean-up costs. Condalert units consist of a solid-state water detection circut combined with a mechanical relay switch, which eliminates false alarms and provides reliable equipment shutdown. More than one unit may be installed ona troublesome unit to provide complete protection.
Key Features:
Control shutdown
LED indicator
24VAC
1A
Solid state water detection circuit
Mechanical relay switch
Designed for air handling industry
Lead wires
Questions before buying? Ask the expert about this item. Sorry, do not submit repair related questions.

Contact a pump specialist to assist you in finding the right pump or pump part. Our Factory Authorized pump experts can help you find the best solution and the GUARANTEED LOWEST PRICE !
Call 1-800-298-4100
Mon - Fri : 7AM to 4:30 PM
Saturday : 7AM to 1PM Eastern Standard Time

Areas We Serve

New Jersey
New York
Connecticut
Nationwide
Subscribe to our newsletter
Pump Express
190 Main Avenue
Wallington NJ 07057
(800) 298-4100
Copyright ® 2013 Pump Express