Little Giant CP1-115 Evaporative Cooler Pump (540005 )
* Overnight Shipping Available!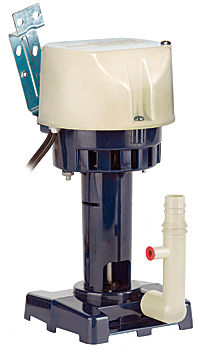 Evaporative Cooler Pump
Designed for reliability in recirculating applications as replacement units for orginal equipment. For use in evaporative coolers, displays, laboratories, water transfer and other applications.
Key Features:
Heavy duty concentric fan-cooled motor Corrosion-resistant one-piece steel motor shaft
Moisture-proof windings
Oversized sleeve bearings with large oil reservoir
Universal mounting configurations
90 barbed elbow with bleed-off
Low pump down and recovery levels
Grounded plug
Flame retardant housing
Snap-off volute plate for easy cleaning
Mesh debris screen
Thermal overload protection
UR listed
Questions before buying? Ask the expert about this item. Sorry, do not submit repair related questions.

Contact a pump specialist to assist you in finding the right pump or pump part. Our Factory Authorized pump experts can help you find the best solution and the GUARANTEED LOWEST PRICE !
Call 1-800-298-4100
Mon - Fri : 7AM to 4:30 PM
Saturday : 7AM to 1PM Eastern Standard Time

Areas We Serve

New Jersey
New York
Connecticut
Nationwide
Subscribe to our newsletter
Pump Express
190 Main Avenue
Wallington NJ 07057
(800) 298-4100
Copyright ® 2013 Pump Express