THE NATION'S LEADING PUMP & PARTS SUPPLIER!
Little Giant OS3-1 Oil Sensing Sump Pump System (513390 )
* Overnight Shipping Available!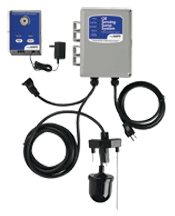 Oil Sensing Sump System
The Little Giant Oil Sensing Sump System is a switch/sensor/control panel system for submersible water pumps. It pumps out, detects and alarms elevator sump pits, transformer vaults, or other water-and-oil-prone confined spaces in accordance with ASME A17.
Key Features:
Multiple Indicator Lights; Power
Pump Run
High-Water; High Oil
Single-piece sensor for easy installation
ASME - A17.1 compliant
Includes Remote Alarm
Alarm panel can be connected to Oil
Sensing Sump Systems remote panel which contains audio/visual alarming
Both the main panel and remote alarm panel have auxiliary contacts for connection to a buildings automation system or SCADA system
Questions before buying? Ask the expert about this item. Sorry, do not submit repair related questions.

Contact a pump specialist to assist you in finding the right pump or pump part. Our Factory Authorized pump experts can help you find the best solution and the GUARANTEED LOWEST PRICE !
Call 1-800-298-4100
Mon - Fri : 7AM to 4:30 PM
Saturday : 7AM to 1PM Eastern Standard Time

Copyright ® 2013 Pump Express