Little Giant 9E-CIM Sump Pump (509200 )
* Overnight Shipping Available!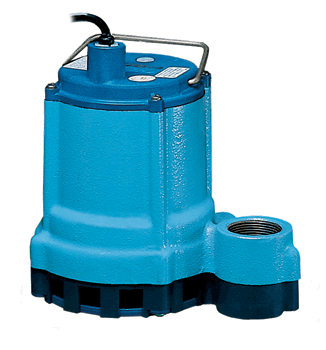 Eliminator Effluent Pumps - 9E Series
The Eliminator submersible pumps from Little Giant are specifically engineered to handle the tough, demanding tasks for effluent and wastewater transfer with high efficiency and long term dependability. The Eliminators include pumps for use in residential, commercial, industrial and agricultural applications with light to medium transfer demands. For dewatering, effluent waste, wastewater and handling where such materials must be moved upward from a collection area to sewer or septic lines, or drainage areas, the Eliminators are an ideal solution.
Key Features:
4/10 HP shaded motor with overload protection
Designed for continuous duty
Epoxy coated cast iron housing and cover
High impact thermoplastic base
Carbon/ceramic shaft seal
Upper sintered sleeve bearings; lower ball bearings
Multiple switch options for automatic operation
Multiple power cord lengths available
UL / CSA listed
Questions before buying? Ask the expert about this item. Sorry, do not submit repair related questions.

Contact a pump specialist to assist you in finding the right pump or pump part. Our Factory Authorized pump experts can help you find the best solution and the GUARANTEED LOWEST PRICE !
Call 1-800-298-4100
Mon - Fri : 7AM to 4:30 PM
Saturday : 7AM to 1PM Eastern Standard Time

Areas We Serve

New Jersey
New York
Connecticut
Nationwide
Subscribe to our newsletter
Pump Express
190 Main Avenue
Wallington NJ 07057
(800) 298-4100
Copyright ® 2013 Pump Express