Little Giant 6-CIM-R Sump Pump (506271 )
* Overnight Shipping Available!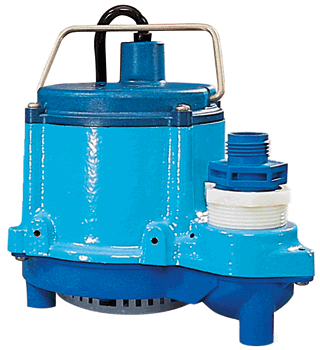 Big John Submersible Sump Pump
For residential and light commercial use, the 6-CIM-R manual sump pump provides efficient and reliable service. Pump features a 1-1/2" discharge with an 18 maximum head. Cast iron motor housing is oil-filled for lifetime lubrication and rapid heat dissipation. Polycarbonate cover and polypropylene volute-base. Garden Hose Adapter included for utility use.
Key Features:
1/3 HP shaded pole motor with overload protection
Designed for continuous duty
Epoxy coated cast iron housing
1-1/4" (31.7 mm) adapter and 3/4" (19 mm) garden hose adapter available
Carbon/ceramic shaft seal
Multiple switch options for automatic operation
Upper and lower sintered sleeve bearings
Multiple power cord lengths available
UL / CSA listed
Questions before buying? Ask the expert about this item. Sorry, do not submit repair related questions.

Contact a pump specialist to assist you in finding the right pump or pump part. Our Factory Authorized pump experts can help you find the best solution and the GUARANTEED LOWEST PRICE !
Call 1-800-298-4100
Mon - Fri : 7AM to 4:30 PM
Saturday : 7AM to 1PM Eastern Standard Time

Areas We Serve

New Jersey
New York
Connecticut
Nationwide
Subscribe to our newsletter
Pump Express
190 Main Avenue
Wallington NJ 07057
(800) 298-4100
Copyright ® 2013 Pump Express