Little Giant CS-SS - Pre-packaged crawl space sump pumps (14940655 )
* Overnight Shipping Available!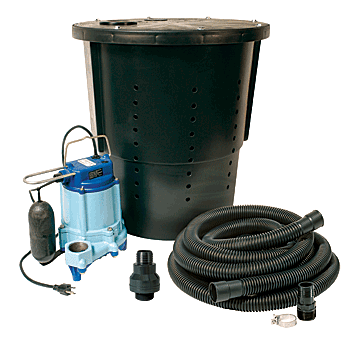 CS-SS Pre-Packaged Crawl Space Sump System
An ideal solution to help prevent water and moisture from collecting in the low areas of your crawl space. Removing this moisture aids in prevention of mold and fungus which causes allergies and odors, as well as moisture damage to wood floors, insulation and metal ductwork. Also helps minimize structural damage from freezing water which can cause your foundation to buckle. The CS-SS can also be used to help prevent water from standing in low lying problem areas such as yard, patio, driveway and other areas around your home.
Key Features:
1/3 HP cast iron pump with overload protection
18" x 22" (46 cm x 56 cm) light weight perforated polypropylene basin
Structural foam cover with slip fit flanges
1-1/4" x 24 (31.7 mm x 7.3 m) discharge hose kit
1-1/2" MNPT (38 mm) x 1-1/4" (31.7 mm) barbed check valve
UL / CSA listed pump
Questions before buying? Ask the expert about this item. Sorry, do not submit repair related questions.

Contact a pump specialist to assist you in finding the right pump or pump part. Our Factory Authorized pump experts can help you find the best solution and the GUARANTEED LOWEST PRICE !
Call 1-800-298-4100
Mon - Fri : 7AM to 4:30 PM
Saturday : 7AM to 1PM Eastern Standard Time

Areas We Serve

New Jersey
New York
Connecticut
Nationwide
Subscribe to our newsletter
Pump Express
190 Main Avenue
Wallington NJ 07057
(800) 298-4100
Copyright ® 2013 Pump Express