THE NATION'S LEADING PUMP & PARTS SUPPLIER!
Liberty ELV Series OilTector Elevator Sump Pump (ELV)
* Overnight Shipping Available!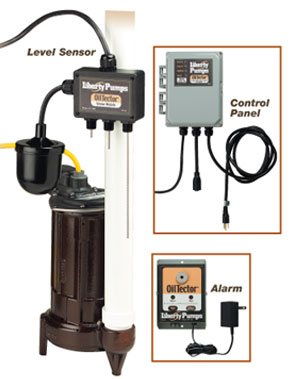 ELV-Series OilTector Elevator Sump Pump System
The new ELV-Series sump pumps from Liberty are designed and approved for safe operation of pumping, alarming and monitoring of elevator sump pits, transformer vaults and other applications where oil and water must be detected. Featuring the unique OilTector control, the system will activate the pump to remove water from the pit in accordance with ASME17.1. The OilTector stops the pump before oil or other harmful substances are discharged. Alarms for both high water and high oil are integral to the system. A remote mount alarm is included and features auxiliary contacts for connection to a building automation system or SCADA system. Systems are available with 1/3 and 1/2 hp. pumps that feature oil resistant power cords and pump components.
Key Features:
System Includes:
Pump
Controller
Alarm
Questions before buying? Ask the expert about this item. Sorry, do not submit repair related questions.

Contact a pump specialist to assist you in finding the right pump or pump part. Our Factory Authorized pump experts can help you find the best solution and the GUARANTEED LOWEST PRICE !
Call 1-800-298-4100
Mon - Fri : 7AM to 4:30 PM
Saturday : 7AM to 1PM Eastern Standard Time

Copyright ® 2013 Pump Express