THE NATION'S LEADING PUMP & PARTS SUPPLIER!
Liberty SJ10 SumpJet Water Powered Back-Up Sump Pump (SJ10)
* Overnight Shipping Available!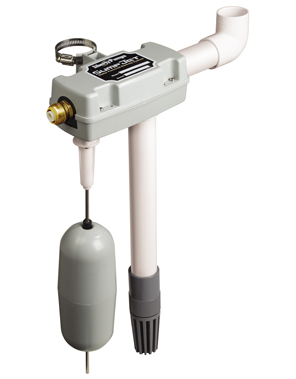 SJ10 SumpJet Water Powered Back-Up Pump
Accepts 20PSI up to 100PSI inlet supply pressure*
The SumpJet (Model SJ10) is a water powered back-up sump pump that will protect your basement in the case of a power outage. This unique product is powered by your municipal water supply** and requires no electricity to operate! With a compact high efficiency design, The SumpJet removes 2 gallons of sump water per 1 gallon used. The SumpJet is fully automatic, arrives completely assembled, and comes backed with Libertys standard 2 year warranty.
*The SJ10 pumping performance varies with inlet water source pressure and pumping head. See complete specifications and performance chart for expected flow rates.
**The SJ10 requires an uninterrupted water source to operate. If you have a well pump, the SJ10 will not operate during power outages.
Key Features:
1 1/2" Discharge
3/4" NPT Water Inlet Connection
Product Availability: OVERNIGHT SHIPPING AVAILABLE ! - PUMP EXPRESS delivers LIBERTY PUMPS and LIBERTY PUMP PARTS 24 hrs a day, 7 days a week, 365 days a year DIRECT FROM THE LIBERTY PUMP MANUFACTURER TO YOUR DOOR.
Questions before buying? Ask the expert about this item. Sorry, do not submit repair related questions.

Contact a pump specialist to assist you in finding the right pump or pump part. Our Factory Authorized pump experts can help you find the best solution and the GUARANTEED LOWEST PRICE !
Call 1-800-429-0800
Mon - Fri : 7AM to 4:30 PM
Saturday : 7AM to 1PM Eastern Standard Time

Copyright ® 2013 Pump Express