THE NATION'S LEADING PUMP & PARTS SUPPLIER!
Crawl Space Sump Kit, 1/3 HP, w/ Basin, Hose Kit & Cover (CSP-257)
* Overnight Shipping Available!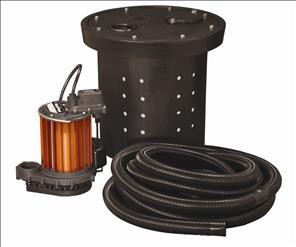 DESCRIPTION FOR CRAWL SPACE SUMP KIT, 1/3 HP, W/ BASIN, HOSE KIT & COVER The Liberty Pump CSP-257 is a 1/3 HP crawl space, sump pump kit that features a automatic, sump pump with a magnetically operated vertical float switch (VMF). This sump pump kit also has a 16.5"x15" polyethylene sump basin with a cover and a flexible 24' hose kit with 1-1/4 discharge. The Liberty CSP-257 Sump Pump has a 1-1/2" NPT discharge, 1/2" solids-handling capability, and 18' shut-off head with 30 GPM at 10 feet of total dynamic head. This Liberty sump kit is ideal for dewatering under homes, basements, crawl space areas and other areas where water may accumulate This 1/3HP crawl space sump pump kit is designed to control problems with mold, fungus, moisture and structural damage. Assembly is required for this crawl space sump pump kit. Features: 1/3HP Heavy-duty submersible sump pump 16.5" x 15" perforated polyethylene sump pit (1/2" perforated holes) with cover 24' x 1-1/4" flexible polyethylene hose kit (part# DHK-24) Check valve threads directly into pump discharge Rugged 1/3 HP motor, oil filled with thermal overload protection 1/2" Solids Handling 1-1/2" Discharge Hermetically sealed motor and switch cavities, and permanently lubricated bearings Liberty UNI-BODY casting, a solid one piece housing that eliminates the lower motor seal ring found on other pumps Epoxy powder coat finish Vortex style impeller for superior solids-handling. Made of high temperature engineering polymer Quick-disconnect 10' standard power cord allows replacement of cord in seconds without breaking seals to motor Fasteners - all non-corrosive stainless steel 416 stainless steel rotor shaft SPECIFICATIONS Item Sump Pump System Application Sump Water Removal Type Automatic Horse Power 1/3 hp Amps 5.2 Voltage 115 Cord Length (Ft.) 10 ft GPM @ 05 Ft. of Head 43
Key Features:
Questions before buying? Ask the expert about this item. Sorry, do not submit repair related questions.

Contact a pump specialist to assist you in finding the right pump or pump part. Our Factory Authorized pump experts can help you find the best solution and the GUARANTEED LOWEST PRICE !
Call 1-800-429-0800
Mon - Fri : 7AM to 4:30 PM
Saturday : 7AM to 1PM Eastern Standard Time

Copyright ® 2013 Pump Express