THE NATION'S LEADING PUMP & PARTS SUPPLIER!
Taco Hot-Link Domestic Hot Water Recirculation Pumps
* Overnight Shipping Available!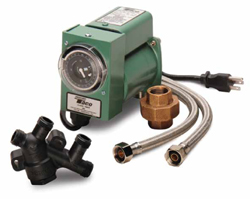 The Taco Hot-Link System (HLS-1) for domestic hot water recirculation reduces the time it takes for hot water comfort to reach showers and faucets by recirculating "cooled" water back to the water heater; hot water lines remain hot. The Hot-Link System can save an average family up to 12,000 gallons of water per year water that normally goes down the drain while waiting for hot water. The HLS-1 is easy to retrofit to an existing plumbing system; no electrician required.
Features
Creates a domestic hot water recirculation system without dedicated return loop piping
Easy to retrofit to existing plumbing system; no electrician necessary
Conserves water by greatly reducing the time it takes to get hot water
Analog pump timer allows you to set the system to work during peak hours or to work continuously
Includes Hot-Link System Cartridge Circulator, a Hot-Link bypass valve, flex hoses and hardware
NSF .25% Lead Compliant Meets California AB 1953 & Vermont Act 193
Key Features:
Product Availability: OVERNIGHT SHIPPING AVAILABLE ! - PUMP EXPRESS delivers TACO CIRCULATORS, TACO PUMPS, TACO PUMP PARTS AND TACO PUMP PRODUCTS 24 hrs a day, 7 days a week, 365 days a year DIRECT FROM THE TACO PUMP MANUFACTURER TO YOUR DOOR.
Questions before buying? Ask the expert about this item. Sorry, do not submit repair related questions.

Contact a pump specialist to assist you in finding the right pump or pump part. Our Factory Authorized pump experts can help you find the best solution and the GUARANTEED LOWEST PRICE !
Call 1-800-298-4100
Mon - Fri : 7AM to 4:30 PM
Saturday : 7AM to 1PM Eastern Standard Time

Copyright ® 2013 Pump Express