Taco ON DEMAND RECIRCULATING PUMP SYSTEM
* Overnight Shipping Available!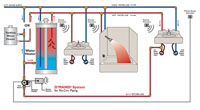 The Taco DMAND System is the only recirculating system that operates 24 hours to provide hot water on demand at the same time it saves water, energy and money.
The DMAND System is a small, silent pump that you attach to the hot and cold water lines in the cabinet under the most remote kitchen or bath fixture in the home. When the DMAND System is activated, the cool water you normally let run down the drain is recirculated back to the water heater through the cold water line.
On demand, the pump circulates hot water from the water heater and returns the cooled water back through the cold water line. When the hot water arrives at the faucet, the DMAND Systems patented heat sensor and control board shut off the pump to prevent pumping excess hot water into the cold water line.
Key Features:
Runs Only When Activated by the User
Automatically Senses When Water is Hot Enough
Saves Water Energy and Money
Saves Construction CostsNo new return line needed and no need to drain the system. Simple Installation
Questions before buying? Ask the expert about this item. Sorry, do not submit repair related questions.

Contact a pump specialist to assist you in finding the right pump or pump part. Our Factory Authorized pump experts can help you find the best solution and the GUARANTEED LOWEST PRICE !
Call 1-800-298-4100
Mon - Fri : 7AM to 4:30 PM
Saturday : 7AM to 1PM Eastern Standard Time

Areas We Serve

New Jersey
New York
Connecticut
Nationwide
Subscribe to our newsletter
Pump Express
190 Main Avenue
Wallington NJ 07057
(800) 298-4100
Copyright ® 2013 Pump Express